Trinity welcomes Officer Ranalli and new police dog
This school year, Trinity students may notice a couple of new faces walking through the halls, with one of them being a four-legged friend. The newest additions to the district's growing police force are a German Shepherd named "Hiller" and his handler, Officer Ranalli. 
Officer Ranalli is a former State Trooper who has plenty of experience working with police dogs. He worked with the force's K-9 unit where he handled various types of dogs throughout different divisions. Ranalli retired from the police force at the rank of Sergeant. 
Ranalli and "Hiller" first met at Shallow Creek Kennels in Sharon, PA. Ranalli was tasked with choosing a new Trinity police dog, and started off with a group of twenty. Through various evaluations, he eventually narrowed the list down to three. "Hiller" won out in the end due to his charisma and playful personality that Ranalli believed would mesh well with Trinity's atmosphere.
"Hiller" is originally from Hungary where he was given the name Fredi. "Hiller" was added to his name to firmly establish him as part of the Trinity Family. He has received a name tag that says "F. Hiller."
When "Hiller" first arrived at Trinity, he had no training as a police dog. Now, every day or two, he is exposed to a new odor that he learns to detect. Ranalli explained that there are about four or five "common denominator" odors that "Hiller" will learn to pick up on. "Hiller" has learned how to properly investigate lockers, vehicles, bags, rooms and open areas in all six schools to detect any safety concerns. 
"Hiller" and Ranalli have now completed training in Monroeville with a former State Police K-9 trainer, and "Hiller" has been certified to recognize twenty-seven odors. Of course, he is always rewarded after successfully detecting the smells.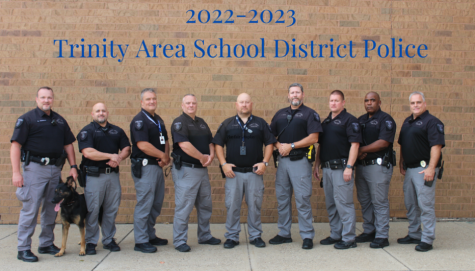 Ranalli sees "Hiller's" impact on our school as two-fold. Of course, "Hiller" will work to protect students and staff by acting as a deterrent and detecting harmful materials in the school buildings. But, "Hiller" also acts as a therapy dog who continuously brightens the days of students. 
"'Hiller' is very approachable. We love it when people come up to us because ["Hiller"] makes people smile," said Ranalli. 
Ranalli and "Hiller" spend every day together, and Ranalli's family loves having "Hiller" around. "Hiller" enjoys Milk-Bone dog treats, as well as chasing balls and playing with rolled towels. These toys and treats help to praise "Hiller" in his training and reinforce positive behaviors. 
Ranalli and "Hiller" can be seen training and greeting students through all six buildings in Trinity Area School District. Ranalli hopes that students will come up to pet "Hiller" in the halls and welcome him as part of the community!
About the Contributor
Hannah Eisiminger, Feature Editor
Outside of school, Hannah can usually be found catching movies with friends, hiking local trails, wandering around art museums, or grabbing tickets to...