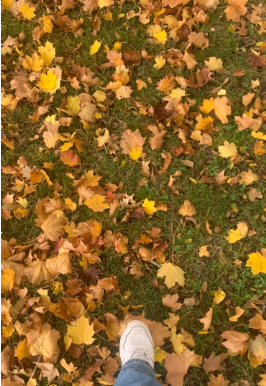 We are now in the month of September, meaning that we are in the beginning stages of fall. Fall, in my opinion is the most beautiful season of the year. School starts once again, the leaves change, the temperature is never too hot or too cold, and most importantly, there are two holidays. Halloween and Thanksgiving are just one month apart, making fall a great time of year.
How do we make the most of this exciting time while still focusing on the school work most students are drowning in? Well, Chelsea is here to help you make the most out of your fall season! 
Although it's simple, going outside is a great way to enjoy the fall season, especially when you might not have a lot of free time. Taking the time to go on a hike, take a walk or even sit outside and do homework is another amazing way to feel the chilling air and surround yourself with the beautiful, changing leaves.
It's also very easy to incorporate fall festivities into your day-to-day life. When you are getting coffee, instead of purchasing the same drink you usually have, try one of the fall drinks such as the Pumpkin Spice Latte at Starbucks. All Thursdays in September after 12pm Starbucks is having a buy one get one sale on all Pumpkin Spice drinks, so use this to your advantage and try something new.
Another easy way to embrace these times are buying a pumpkin or fall-scented candle. Smell can increase productivity along with serotonin and it's such an easy task to buy a candle and light it while doing school work or any of the other tedious activities that fall brings. 
Making a "fall playlist" is also such an easy way to embrace the season changing. Some of my favorite songs that give off the fall vibe are "Autumn In New York" by Billie Holiday, "1979" by The Smashing Pumpkins, "Linger" by the Cranberries and anything by Bon Iver, The Smiths, Clario, Mazzy Star or Big Thief.
For more involved plans, you can go to the pumpkin patch with friends. This activity is not only festive but it also gets you outside and it's a great group activity. Going to haunted houses can be such a great time and it's always an event that leaves you with so many great memories. For example, Kennywood's 'Phantom Fall Fest' starts September 22 and ends October 29. If you want to go to the park earlier, they offer beautiful autumn-themed decorations with great food and rides. If you want to go for a good spook, then you will want to go late at night to the scary theme park filled with tons of terrifying actors.
Although many feel that dressing up for Halloween is reserved for little kids, this is far from the truth. Dressing up and properly celebrating Halloween is super fun and it's a great way to be creative, even if it's just to take pictures or to attend a Halloween party. Watching Halloween movies are a vital part of the proper fall experience from 
'Halloween' by Rob Zombie to "Hocus Pocus" by Kenny Ortega, there are tons of great movies to choose from along with the classic T.V show "Gilmore Girls" that is nothing short of the perfect fall show.
No matter how you choose to spend your autumn, from small acts to big ones, take this time and focus on all of the simple and good things that come with the fall season.