Senior Night celebrates Class of 2021
2021 has been a crazy year for Trinity's seniors. However, despite everything that has happened, these seniors still had a chance to be celebrated with a special night all for themselves.
Senior Night was held at the Trinity Middle School football field on Friday, May 14 and was the first event held exclusively for seniors this year. The gates opened at six forty-five p.m. with the dinner starting at around seven. 
Countryside Deli was called in to cater for the event and the menu consisted of a wide variety of food choices. 
To add to the fun, a blue and white balloon archway was set up in order for the seniors to take pictures together one last time. 
"Senior Night was the first event like this to take place. The kids wanted to do something special, and only for their Senior class, especially with the year they've had," Assistant Principal Dr. Demian explained. 
The seniors received their senior gifts during this event, which members of the Student Council had been working on for the last couple of weeks. The gifts this year were blankets with the words "Trinity Class of 2021" printed in the corner. In addition, the seniors were also each gifted with a small lavender flower and Cyprowski Candy Company chocolate!
Senior John Trapuzzano commented on the event, "My favorite memory from the Senior Night celebration was watching the senior video on the football field with all my friends. It was nice to see all the hard work and effort we put into the video and reminisce over our senior year."
Trapuzzano also mentioned that the senior video was put together by a student, Noah Heffner, and that it captured many special characteristics of the Class of 2021. 
Around 9, a huge fireworks display was put on, closing out the night with a "bang" and adding a little more excitement to the seniors'  last few weeks of school.
Trapuzzano addressed the Class of 2021, "Seniors, way to make the best of this crazy year we had. Good luck in the future and remember, we will always be Hillers!"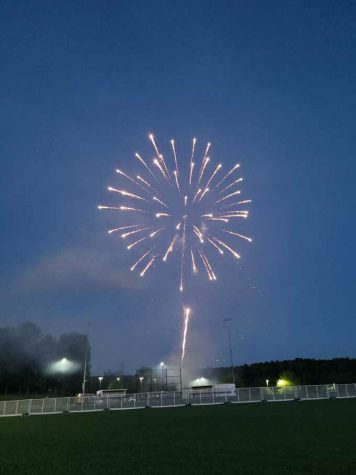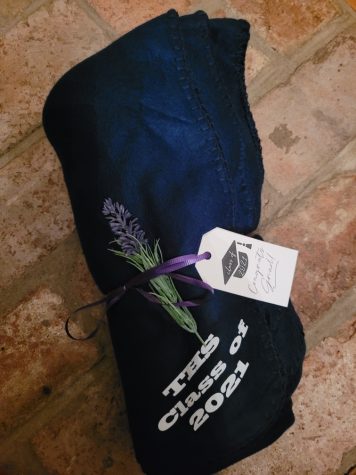 About the Contributor
Riley Dunn, Copy Editor and News Editor
When not writing for the newspaper, Riley can usually be found hanging out with friends, participating in extracurriculars or lounging around with a good...