Pet of the month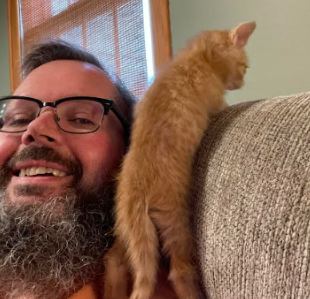 This November, the pet of the month is Loki. This adorable orange tabby cat belongs to one of Trinity's music teachers, Mr. Komula.
The Komula family got Loki on April 16 of this year when he was just a kitten. Born on March 8, Loki was only a little over a month old when he was brought home to his family. 
Loki's name was decided by Mr. and Mrs. Komula after their favorite show, "Vikings," as his name was inspired by their favorite character. They also found inspiration from the Viking God, Loki, who is the god of mischief. Mr. Komula says that he definitely lives up to the meaning behind his name.
Loki's favorite activities include looking out the windows and playing with his toys. When playing with his toys, his purple mouse is his favorite and he especially loves it when it is thrown for him to retrieve. 
Even though he is said to be quite mischievous, Loki's cuteness sure makes up for it!