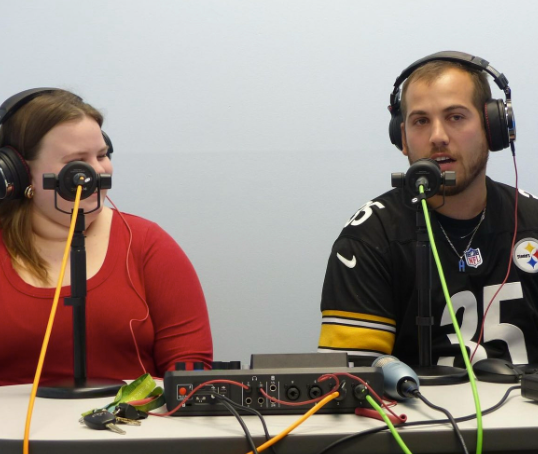 Driving in the car? Listen to a podcast! Studying? Listen to a podcast! Getting ready for school? Listen to a podcast!
As time moves forward and technology advances, podcasting has grown more and more popular. Whether an individual is busy or relaxing, a podcast is a way to enjoy entertainment without the dedication of having to pay attention to a movie, show or book, making a podcast such a hit for the everyday person. 
Not only does The Hiller newspaper have a podcast students and families have been able to tune into since the 2022-2023 school year, but the middle school also started a podcast this year. 
After recent renovations at the middle school, updates in the media center allowed for an extra empty room in the building. Middle school teacher, Mr. Murphy, took advantage of this unused space and started a podcasting exploratory this year for students who enjoy media. 
Middle school students have exploratory once a week, thus resulting in a new episode every week. Murphy gives each student freedom in choosing podcast topics. After each new episode, he chooses one student to talk about the next topic for the next podcast. Murphy hopes to make each season ten episodes, equaling out to one season per semester. Some popular topics among the students include fashion and question and answer. Sports is a popular topic middle school student Ulysses Davis says he especially likes to talk about. 
"It is really fun to do a podcast rather than some of the other exploratories we have here," explained Davis.
With only seven students in the podcast exploratory, there are lots of topics to cover and many opportunities for students to appear on the podcast more than once. Students in the exploratory explained that they like it so much because it is something new and different from all the other explatories the middle school offers. 
Student Madelyn Wigfeild commented, "We get to talk about anything we want based off of our interests."
In the end, Murphy hopes to see the podcast grow into something bigger. He went on to explain how he hopes to have someone with influence or fame on the podcast one day. 
Right now the podcast is in the process of being switched to a new platform, but listeners can find some of this year's podcasts on Apple Podcast @TMSTALKSHOW.
If ever looking for a podcast to tune into, listeners can tune into The Hiller podcast at thehillernewspaper.org or on spotify or the middle school podcast @TMSTALKSHOW to find out about events in the school. Congratulations, TMS!