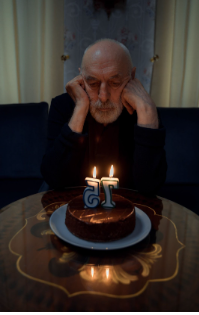 Birthdays are often associated with joy, celebration and excitement. However, it is important to acknowledge that not everyone feels the same way on their special day. For some, birthdays can bring along a wave of sadness, loneliness or reflection. 
So, what would Chelsea do? Well, it just so happens that sometimes even I feel this way, so if you find yourself feeling down on your birthday, know that you are not alone.
Feeling sad on your birthday can stem from tons of different factors. It might be because you have unfulfilled expectations or because you're feeling overwhelmed by the passing of time. It is essential to understand that these emotions are completely normal and that it's okay to feel this way. Acknowledging your feelings is the first step toward finding ways to cope and make the most of your day. 
Accepting that it is normal to feel sad on your birthday allows you to be kinder to yourself and give yourself permission to experience these emotions without judgment. 
Now trust me, it's way easier said than done, and it may even be considered silly at times, but while it may be challenging, try reframing your perspective on your birthday. Instead of focusing on what you don't have or what you haven't achieved, think about the positive aspects of your life. Celebrate the relationships you have, the experiences you've had, and the growth you've had. Remember that birthdays are an opportunity for self-reflection, gratitude and personal growth. 
Consider establishing new birthday traditions or rituals that resonate with you. This could involve engaging in activities that bring you joy, such as spending time in nature, listening to music or treating yourself to something special.
On your birthday, prioritize self-care and engage in activities that make you feel good. This could involve pampering yourself with a spa day, enjoying a delicious meal or engaging in activities that bring you peace and relaxation. 
Feeling sad on your birthday is not uncommon; in fact, plenty of songs have been written about it such as Olivia Rodrigo's "Teenage Dream" or Taylor Swift's "Nothing New" featuring Phoebe Bridgers. Remember, your birthday is a celebration of you, and you deserve to be kind to yourself.