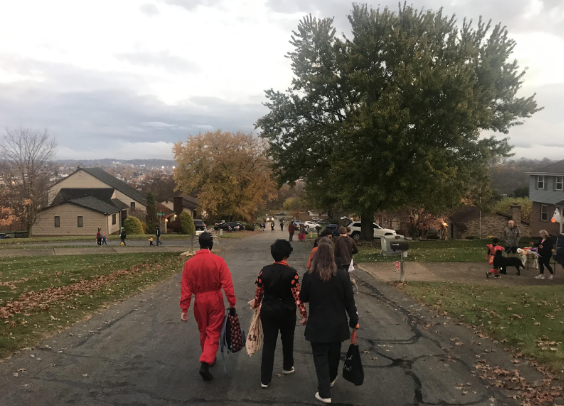 Halloween has plenty of different forms of entertainment when it comes to the media side of the holiday. Movies, books, music, and TV shows have all explored the different sides of Halloween and made a world of spooky things to explore during the holiday season.
One of the most popular parts of Halloween are the classic horror movies. From the "Scream" franchise to "Smile", there are an abundance of films to choose from this time of year. 
Coryn Stoy, sophomore, says that the best movie for this time of year is, "A Nightmare on Elm Street," it's such a classic and I love the plot and idea of the movie." 
Other movies that Stoy recommends are the "Fear Street" movies. Even though these movies can be pretty scary, they take a unique storyline route, having all the movies interconnected through different time periods. Some older, classic Halloween movies include "The Silence of the Lambs," "Carrie," "Final Destination" and "Friday the Thirteenth", all must-watches for the Halloween season. Viewers looking for a more modern movie to watch can check out films like "Talk to Me," "The Boogeyman" and "Cobweb." These films would be a good fit for anyone who enjoys a good scare.
Popular TV shows also usually run Halloween-themed episodes during this time of year, like "Friends," "Jessie" and "Modern Family." Some scary series to tune into include "Wednesday," "American Horror Story" and "The Twilight Zone." These shows are filled with creepy characters and supernatural events, and can be watched on streaming platforms such as Netflix, Hulu, and Amazon Prime.
In the literary department of the Halloween season, there are plenty of books to get the reader's skin crawling. Paranormal, supernatural, psychological and slasher novels are popular themes among these books, and they range from a little spooky to absolutely terrifying. 
Finn Campbell, senior, usually picks up a Junji Ito book when he's looking for a new read, stating, "He takes regular things and takes them all the way up. It's just a bunch of messed up stuff, but it's interesting." 
Readers who don't enjoy such grotesque stories can check out a book by Alvin Schwartz, the author of "Scary Stories to Tell in the Dark." This novel is full of folk stories and ghost horror, and there's a movie adaptation of it as well. It's a classic and an easy read for someone who just wants to get a good spook. 
Chase Vettoral, sophomore, recommends a book by Stephen King, the reputed "King of Horror," specifically "It," one of the most well-known horror stories that also has multiple movie adaptations. This movie is one of Vettoral's favorites and he strongly recommends it.
People who enjoy being scared can experience what they're reading first-hand at local places like Hundred Acres Manor, open until October 31, or attend a ghost tour in Pittsburgh with Haunted Pittsburgh Ghost Tours on Thursday through Sunday until November 3.
To get in the chilly Halloween mood, light some fall-scented candles from Bath and Body Works and pair them with a viewing of Michael Jackson's "Thriller" music video, or play one of the classic movies listed earlier. Other songs that get people in the Halloween spirit include "Witch Doctor," "Monster Mash," "Don't Fear the Reaper," "Zombie" and "I Put a Spell on You."
With all of these different options for shows, films, and songs, Halloween fans should have no trouble at all finding the things that scare them and getting in the spooky spirit.