JROTC seniors march into military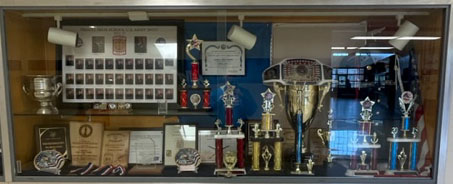 The U.S. Army Junior Reserve Officers' Training Corps (JROTC) is a nation-wide youth program dedicated to helping young American citizens discover the values of citizenship while servicing the country. Students (Cadets) enrolled in JROTC partake in various physical activities. JROTC also provides Cadets the opportunity to complete community service in order to develop a better understanding of valuable life skills.
A common misconception is that the program trains students to enlist in the military, but that is not the case. While the organization is affiliated with the Army, the focus of JROTC is about compelling students to expand their own abilities.
Senior Nathaniel Black explains, "It's not about training people to go into the military. The main quote of JROTC is actually, 'Motivating young people to become better citizens.' "
While he plans on going into the military after he graduates, Black notes that JROTC focuses on improving the character of students enrolled.
"It's definitely a resume builder. It provides you with more opportunities in school," says Jack Finley, another senior focusing on ROTC after high school. 
Finley is going to college at Penn State with a scholarship for JROTC with future plans to join the military.
When asked how the program has benefited him as a person, Black explains that he has become a better person in general. He specifically notes that he has become a better public speaker and his confidence has gotten significantly better compared to when he started the program. 
With more insight on what the military experience is like, Finley clarifies that most of it is not actually fighting. There are actually a variety of jobs available to many different tastes. He does, however, note that going into the military is a big time commitment.
"It's a big chunk of time. I have an eight-year obligation after college," Finley comments.
Finley expands on the benefits of joining JROTC as he explains that the program provides the opportunity to see what the military is actually like. He explains that his passion for JROTC stems from past family members and he has always known he would follow in their footsteps.
Black recommends that any student looking to become a better version of themselves or even looking to make new friends should consider joining JROTC. Anyone looking to join JROTC in the future should talk to Major Clacks via email at eclacks@trinityhillers.net and Sergeant Major Harper at qharper@trinityhillers.net.