Marley Webster skates to Post University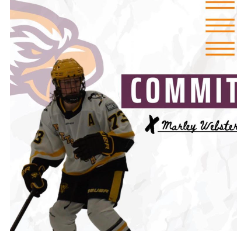 Senior Marley Webster has officially committed to Post University to play ice hockey. 
Post University is a university in Waterbury, Connecticut. The school is known for its Division I athletics including ice hockey. The head coach of the women's ice hockey team is Gretchen Silverman, and she has led the Eagles to victory time and time again. The team practices in the Sports Center of Connecticut.
Webster has been skating since the age of three and playing ice hockey since she was five. The ice has always been a second home for Webster and the rest of her family.
Webster's dad played ice hockey in high school and in college; early on in her childhood, he shared his love for the sport with her.
Webster says "I would like to thank my family, teammates, and friends for the continuous support throughout the years."
When it came to picking the college she wanted to go to, Post University was always a top choice for her. Webster was drawn to the new program, the school size, and the campus; she also has the desire to help the program grow.
It all started when Webster went to an exposure camp where the assistant coach of Post was scouting out new talent. Webster had been interested in the university beforehand and emailed the head coach. After the camp, the coaching staff asked Webster to visit the school. 
After the visit, Webster knew this is where she wanted to continue both her athletic and academic careers.
"I am extremely grateful for the opportunity, and I am excited to continue playing. I have had this goal set ever since I started playing and it's super surreal that my dream became a reality," says Webster.
Women's hockey is very difficult to pursue professionally, so Webster plans on becoming a physician assistant. Webster plans on continuing her education by completing an additional two to three years of physician assistant school after finishing a four-year undergraduate degree at Post University. 
To keep up with Webster and her hockey journey, follow @marleyywebster and @post_wih on social media.