Banco achieves success as three sport student-athlete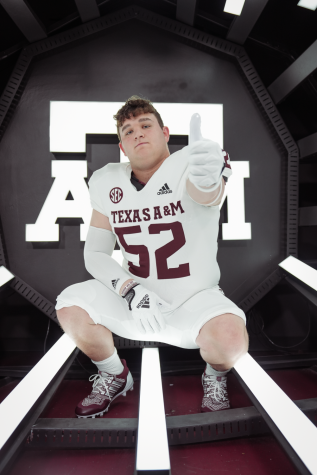 Balancing school and sports can be difficult for many, but Senior Ty Banco has played and achieved several awards in football, wrestling and baseball all four years of his high school career. 
Banco talks about his motivation over the years: "What keeps me motivated is seeing all the kids who can't play any sports or who are mentally challenged and don't have the opportunity to do what I do. Seeing all those kids makes me wanna do my best for them."
Aside from his great sporting achievements, Banco is a great all-around student as he is Class Vice President, a member of the National Honor Society and a true leader of his senior class. He can be found at every school sporting event cheering on all of Trinity's teams, and his school spirit is truly phenomenal. 
Mr. Reihner, one of Banco's wrestling coaches, speaks of his character, "Ty has an outstanding work ethic as an athlete. He is a competitor. He doesn't only want to win; he does all the little things that help him to make that a reality."
Banco's biggest inspiration is his dad, as his father has coached him since Banco was young and has continued to uplift and support him through all of his accomplishments and hardships. 
Mr. Tarquinio, another one of Banco's wrestling coaches, shares a favorite memory about him: "My favorite memory of Ty is seeing the smile on his face every time he Banco-bombs (throws) an opponent.  Additionally, watching him achieve his goals he sets out for himself and seeing him develop into the great person that he is."
Mr. Knause, Banco's football coach, talks about his leadership skills: "Ty is a caring individual which translates into being a great leader. He genuinely cares about his teammates and everyone knows he will do anything to help them. He is respected in the team setting because his daily actions and work ethic are respected by his coaches and teammates."
Throughout Banco's athletic career he has shown great promise to colleges. With offers for all three sports on the table, Banco committed to play Division 1 football at Texas A & M University on April 16, 2023. To keep up with where he will continue his next four years, follow Banco on Twitter @tybanco4. 
Banco closes by giving advice to underclassmen, "don't do anything that could get you in trouble, so focus on the good and the good will get better."
About the Contributor
Hunter Spears, Staff Writer
Outside of school Hunter is found working or at all star cheer practice. During her free time she likes hanging out with her friends or practicing to work...