WWCD?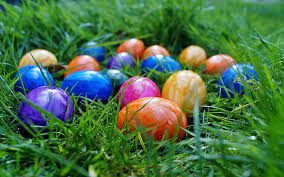 As the season of dyed eggs and hunting for chocolate rabbits is upon us, many high school students wonder if their ages bar them from participating in these entertaining activities. Well, don't worry; Chelsea is here to say that you can never be too old to partake in the seasonal enjoyment of the holidays!
If you're looking for creative ideas to get into the spirit of the holiday season look no further!
Decorating Easter eggs is a tradition that people of all ages can enjoy. There are many guides online for what exactly to do, but you can find kits at crafts stores or make your own using food coloring and vinegar. 
An amazing way to celebrate this holiday is to take broken eggshells and put paint in them. After that, throw them at a blank canvas to create incredible Spring artwork; These paintings will be a hit and are a great festive idea for all members of the family.
Creating Easter cards for family and friends is also a wonderful way to cost-effectively make gifts. It requires little preparation and cleanup, but will definitely create long-lasting memories. 
Getting into the mood for the holidays by watching Easter movies is also a way to celebrate. A few I recommend are "Peter Rabbit," "Rise Of The Guardians" and "Rabbit School." 
Another great way to get teens into the Easter spirit is to add some trivia, questions or more challenging clues to the normal Easter egg hunt. The trivia and clues could range from questions about Spring to math problems.
Baking Easter treats are also an exceptional way to get involved in the holidays. Items like hot cross buns, carrot cake or Easter-themed cupcakes are perfect to enjoy during the festive season and easy to prepare; Here is a link to a great site with many Easter recipes: https://cooking.nytimes.com/topics/easter
Giving back and helping out when you can during the holidays is just as important as everything else. Making Easter baskets or volunteering for shelters or local food banks is a special way to give back and a reminder of what the holidays are all about.
 Though no matter how this holiday season is spent, the important part is that you are celebrating in ways that make you happy. Happy Spring, Hillers!