WWCD?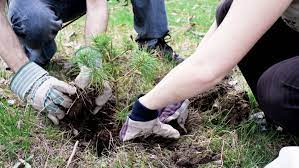 As Spring quickly approaches, many THS students and families are wondering how to get a head start on planting their gardens. Chelsea is here to help you navigate the best ways to prepare your Spring garden! 
For starters, when determining where to set up a garden, make sure correct decisions are being made for the placement. 
A sunny spot close to home is ideal when picking where to begin the garden, while also making sure the soil is good for growing. Ways to do this are to look at the ground and see if there is underground animal activity, such as earthworms. This shows planters that the soil is rich and, as long as it isn't dry, ready to be put into the garden. These two factors are the key to growing good produce. 
Clearing away dead leaves or any other winter debris from the gardening area will help make a clean area for the newly-planted crops. 
From adding soil nutrients to ensuring the soil isn't compacted and removing stray weeds, these tasks should be completed a few weeks before you begin your garden.
When deciding what you'd like to grow in your garden, make sure to only choose plants that your family will eat. There is no sense in wasting good produce, so go over what you'd like to grow before going out and purchasing the seeds. Keep in mind the potential space limitations that you might be faced with. Consider the pros and cons of a raised-bed or in-ground garden, as some plants require more space or soil depth than others. 
Spacing is also crucial when it comes to gardening. Students should research the plants and what their direct needs are to survive. Around 18-36 inches is the standard spacing for most normal-size crops, but anyone wishing to grow larger garden crops should allow up to 72 inches. 
Vegetation like kohlrabi, kale, collards, Chinese kale, peas, onions, radishes, spinach, lettuce and turnips are all great crops for the early months of Spring. These crops should be planted around February and March to ensure their growth to fruition. 
A final tip is to make sure to clean up the area around the crops as well and make routine checks of the plants for bugs, weeds and other pesky intruders.
Chelsea is happy to help students and families start their gardens and begin on the path to gardening expertise.