Trinity students display musical talents at PMEA regionals
Throughout the last few weeks, Trinity music students have gotten the opportunity to perform at the PMEA regional competition. The PMEA, Pennsylvania Music Educators' Association, is a statewide nonprofit organization that seeks to provide musical development and education to a wide variety of students. The PMEA also allows students to compete every year for district, regional and statewide recognition. 
Students who advance to these competitions will be required to travel to neutral schools for a period of one to two days in order to practice difficult music pieces. This culminates in a concert performance, where all PMEA students have an opportunity to play together for an audience. During this time, students will also be informed on whether or not they will move on to the next level of competition. 
"I love hearing the entire ensemble together and performing with people who are the best of the best. The repertoire is challenging, but it's really fun to hear it all come together within two days," Senior Melena Maglietta says. 
Maglietta first got involved with the PMEA program during her Junior year, when choir teacher Mr. Komula pushed her to try out. Since then, she has really enjoyed the experience and encourages young choir students to try out as well because of the new people they might meet by doing so. 
Maglietta and Senior Abby Drezewski both qualified for the district and regional PMEA concerts this year in the category of Vocal Choir. Additionally, Senior Brett Phillips also performed at districts and regionals in the category of Violin. Auditions and concerts for orchestra, band and choir are all held on different dates at different locations. This is done to give students the opportunity to perform in multiple areas of music, if they so choose. 
"Regionals is exhausting. We sing all day, for two days, non-stop. However, my favorite thing about it is probably being surrounded by like-minded people who appreciate music," Drezewski states. 
Both Maglietta and Drezewski performed in the district concert, which was held at Thomas Jefferson High School. After that, both advanced to the regional level at Pine Richland. 
Both students also plan on continuing to perform in choir at the collegiate level, bringing their musical talents to the next stage of their lives. 
Their passion for music is shared by Phillips. 
Phillips has been playing violin for eleven years and has been someway involved in PMEA for the past six. At the beginning of March, he got the opportunity to compete at the regional violin concert at State College High School.
"In the orchestra, you go up on stage, follow the conductor and try to play the music through in the best way that you can. The orchestra is a well-oiled machine. No part alone can make that music as magical as it is," Phillips says. 
Phillips' advice to upcoming musicians is to prepare the music as much as possible. He also highlights that enjoying the performance can help to make the experience more fun and stress free. 
After the regional competition, Phillips also qualified for a place in the PMEA state competition – which will take place on April 22 at the Kalahari Resort in the Poconos. This will be his third consecutive time qualifying and he is excited to take part in the performance. 
Congratulations to all three PMEA regional qualifiers! Trinity High School is lucky to have such talented students!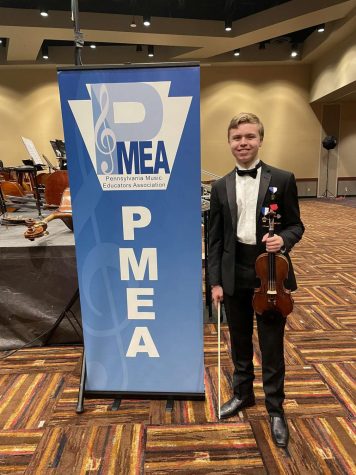 About the Contributor
Riley Dunn, Copy Editor and News Editor
When not writing for the newspaper, Riley can usually be found hanging out with friends, participating in extracurriculars or lounging around with a good...