Boys' lacrosse team handles new season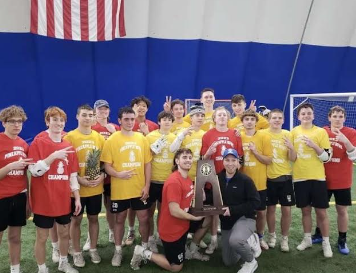 It's spring time, and Trinity's boys' lacrosse team has already been extremely successful. The team has been hard at work since the beginning of winter, resulting in their second year winning the Pineapple Bowl. The Pineapple Bowl is an annual 8-on-8 tournament that was recently held on February 12, 2023.
The team practices using inside field training and field practices a few times a week during winter to prepare for their season. They have participated in two 7-on-7 tournaments so far and practiced a few times over the summer.
March 6, 2023, was the official start of their season. The team has started regular practices Monday through Friday and will continue to do so until the end of the season on May 10, 2023.
Their practices last about two hours and consist of several different activities including a warm-up, individual training, "man up, man down exercise" and running through plays.
The majority of the team has been playing since their freshman year, or earlier, so the team has been playing together for a while. 
Junior Dominic DeRubbo says, "Everyone's friends on the team and we try to make each other better on and off the field."
 This is Coach Mike McBride's first year coaching boys' lacrosse at Trinity High School. He has been described as "a great coach who comes early and leaves late so the team has more time to practice." 
This year the team has been more successful than ever in addition to their two-year Pineapple Bowl streak. 
For some seniors, this isn't their last year playing lacrosse. Seniors Christian Bober and Logan Waychoff will be continuing their athletic careers at Washington and Jefferson College. Senior Stevie Moschetta will continue playing lacrosse at The University of Mount Union and Senior Braedon McCullough will continue his academic and athletic career at Madonna University.
Their next game is 7:15pm on March 27 versus Norwin Senior High School at Trinity Middle School, and there are several home and away games to come. If you want to learn more about the game of lacrosse, show up to support your fellow Hillers.