Scholastic art and writing recognizes talented Trinity students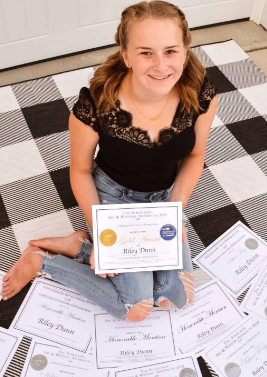 This year, many dedicated artistic students participated in the Scholastic Art and Writing competition. The competition allowed students to enter art and writing pieces that they have created to be judged. For the past couple years, the award ceremony has been virtual, but starting this year, the award ceremony will be back in person. 
When planning to enter, students have from the fall to early January to enter the competition. Participating students can choose from pieces they have created in the past or create a new piece to submit. Art such as ceramics can take months to prepare, since students not only have to make their piece but also have to go through the rest of the firing and glazing process to complete their piece. 
Senior Sara Setto says that ceramics can be risky when working with a deadline, so it is important for students to have to have an abundance of time before to prepare their piece. 
"When creating a ceramic piece, so much can happen or go wrong," says Setto.
As students plan which piece they want to enter, it is good to have different options to choose from. Sophomore Sienna Heasley, who has participated in the competition for the past four years, says that she creates paintings all throughout the year and then she chooses her pieces she wants to enter from a portfolio.
Along with the art categories, students can aslo submit pieces they have written. The writers from this year who received awards are Sydney Avant who received a silver key in the poetry category, Brett Phillips who Submitted two short stories and received honorable mentions, and Riley Dunn who submitted six writing pieces and received two silver keys, two gold keys, and two honorable mentions. 
At the competition, two students from Trinity received four out of the five American Vision Awards. Setto achieved one of the American Vision Awards and had two pieces place at the competition, one being a D and D inspired ceramic pot and the other piece they prepared was a coil pot that can be used as a planter. Heasley was awarded three of the American Vision Awards and also had eight pieces in the painting and drawing categories that placed in the competition. 
Art is something all of these students take seriously and enjoy. Heasley says she enjoys just being able to do something with her art and allowing other people to see it rather than just sitting on a shelf. She expressed that she loves being artistic and expressing herself because it is something she finds peaceful and relaxing. 
"I think the best part of it all is being able to see what you can create out of almost nothing," Setto claimed. 
The Scholastic art and writing competition takes time to plan for, but all of the students who participate love to participate in competition because it allows them to do what they love. The competition is not only for highschool, grades 7-12 can participate in the competition aswell! Congratulations to all of the dedicated and successful Scholastic award winners this year for all of their time and dedication.