Music students travel to Disney for magical, musical fun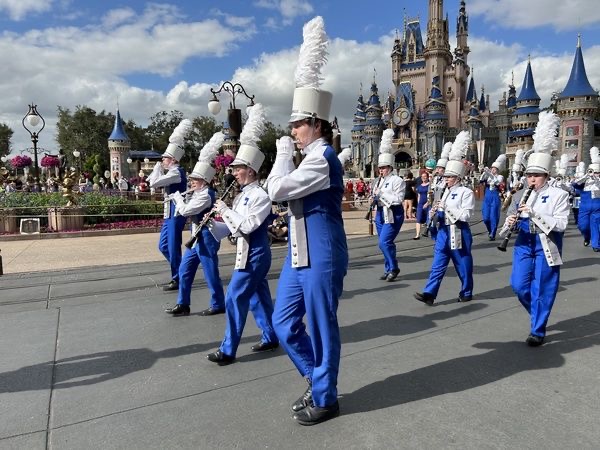 As the month of January drew to a close, the many talented band and choir students that make up Trinity's music department embarked on an adventure to the "most magical place on earth." 
Students left early in the morning of Monday, January 30, and returned to PA on Saturday, February 4. In total, they spent five full days exploring all that the Disney and Universal theme parks had to offer, while also performing in parades and concerts along the way. 
"I watched the band perform in the parade and I thought it was a really cool experience. It was my first time seeing the band perform outside of halftime shows at football games. I really enjoyed it. I performed on stage at Disney Springs, and it was also an amazing experience. It was cool to see people stop to listen to us sing, and to receive support from other kids from Trinity," Sophomore Allie Ewbank says. 
While in Disney, Ewbank and the other students stayed at the All Star Music resort, where many different music students from various schools were able to stay while they performed. The theme of this resort fit in perfectly with the interests of the band and choir students in attendance. 
One Wednesday, February 1, while visiting the theme parks, the band marched in one of the parades at Magic Kingdom, giving a display of their talents. They performed the song "Uma Thurman" by Fall Out Boy. 
In addition, choir students got their chance to shine at Disney Springs on Thursday, February 2, where they performed an array of fun and festive songs. The songs were "Love Train," "Super Trouper," "Already Home," "Bring Him Home," and "Seasons of Love." 
A week in Disney also gave students a chance to relax and hang out with friends away from a stressful school environment. It allowed the band and choir members to build a bond with one another that will only grow once they return. 
"I really enjoyed spending quality time with the band and getting to bond with everyone," Senior and band Drum Major Alexia Caldwell comments. 
Throughout the trip, students were able to visit all four Disney theme parks and both Universal theme parks. Every day, they were given the opportunity to ride a lot of different attractions and try different restaurants. They were also able to shop for clothing and apparel. 
The music department attempts to take its students to Orlando every three years. 
"Enjoy the time you have while you're there cause it goes by really fast and you have a lot of work to do when you get back," Ewbank advises. 
THS wishes good luck to the Trinity band and choir in future endeavors!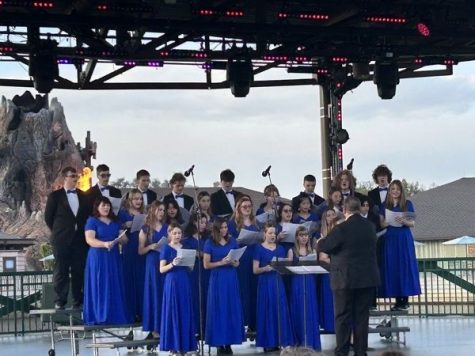 About the Contributor
Riley Dunn, Copy Editor and News Editor
When not writing for the newspaper, Riley can usually be found hanging out with friends, participating in extracurriculars or lounging around with a good...