Boys' hockey glides through season
Despite a rocky start, the Trinity High School Boys' Hockey team has persevered through their season. They have worked hard throughout to become better teammates, players and people. 
Unlike most sports at Trinity, the hockey team is not part of the Western Pennsylvania Interscholastic Athletic League (WPIAL). Rather, it is a member of the league formed through the Pennsylvania Interscholastic Hockey League (PIHL). Schools join the group by opting into a co-op-based system and paying contacts to establish a team within the league. Because of this structure, not all schools in the area have their own team, and members of any given team do not have to attend the school for which they are representing. Trinity's team is made mostly of Trinity students, but there are a few others from local schools. Additionally, because the program is spread over a greater area than the WPIAL program, the team may have to travel as far as Butler county for games. 
The team has a new coach this year, AJ Peace. Senior and team captain Liam Porter noted that Coach Peace has been well-received on the team. Peace has a different coaching style than past coaches, but the boys have been able to adapt to it well and learn from him.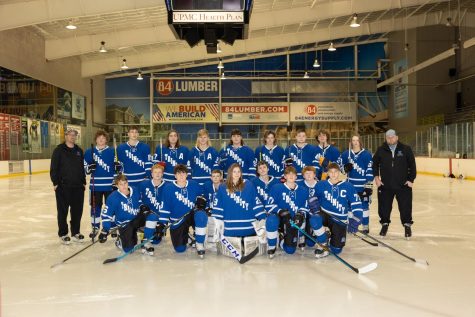 The team practices twice a week at the Printscape Arena at Southpointe, usually on Sundays and every other Tuesday. Coach Peace leads the boys through 90-minute practices. The average practice starts with group drills and then transitions into more specific breakout exercises, like defensive zone drills. After that, the boys will work on small area games or one-on-one scenarios and often end practice with three-on-three scrimmages. 
The team plays games twice a week, on Tuesdays and Thursdays. As of February 13, their record is 0 and 17.
Porter believes the team's greatest challenge lies in on-ice communication. 
"The team has a lot of younger kids so it's the first time they've played together. It takes a long time to adjust to a team setting… A lot of the other teams, their kids have playing together for three or four years," he said. 
Freshman team member Hayden Stack shared this perspective and added that the team struggles with game-time communication, especially on defense. 
Both Porter and Stack emphasized the strong bond the team members have with each other on and off the ice. 
"We're always hanging out in the locker room and texting in the group chat. We're good friends," said Stack. 
Porter felt if the team received more recognition from the Trinity community, it could go a long way: "Last year we lost a lot of seniors and now we have to rebuild [the program]. There's a lot of kids that play hockey here [at Trinity], but people don't know about it. The program's still up-and-coming, and we're still figuring things out."
In spite of the challenges they have faced this season, Porter is proud of the team. As they wrap up their season, be sure to go out and support them at their final game against Connellsville at the Printscape Arena on February 28 !