WWCD?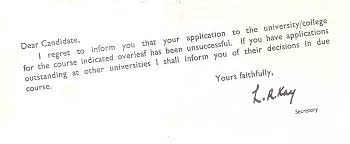 As spring begins, more and more colleges are releasing their long-awaited decision letters and students are filled with anxiety and worry as they hope to receive an invite to where they will spend the next four years. For some, this is a great time filled with joy, but others are met with disappointment, rejection or detterence. 
No matter the decision stamped onto the letter with your name, one thing stays the same, go easy on yourself. Chelsea is here to help you deal with this dreaded verdict!
To begin, the best advice I can offer is to go easy on yourself. Applying to college is already such a great accomplishment that you should be proud of. There are many steps to take to make sure you are doing everything needed to apply, and it can become overwhelming. 
Two important things to keep in mind are that the rejection isn't personal and you aren't alone.
Students don't receive rejection letters based off of if someone on the admissions committee doesn't like them. Colleges only have a certain amount of seats and admission counselors have to work with what they have to try and build a "well-rounded" class. Many students will be denied admission to at least one of the colleges they applied to, and it isn't the end of the world. You are not alone in this situation, and shouldn't have to feel like it. In 2022, over 95% of the students that applied to Stanford received a rejection letter. It's okay!  
Another reminder is to not dwell on the 'what ifs.' It doesn't matter if you fixed your GPA in time or if you had a better idea for your personal statement. Trying to nitpick everything wrong in your application isn't going to get you anywhere. Don't change for anyone. Instead, be confident in yourself and what you are bringing to the table and try to find a school that matches your wants and needs.
The top thought to keep in mind is to celebrate the acceptance letters. Even if the schools weren't your first choice, an acceptance is such a big accomplishment. 
It's unwise to dwell on the bad, and you never know, maybe the experience could be good or even better than what you were expecting at your dream school.
To finalize my points, it's okay to get rejected from college; it happens. How you handle the rejection is more important. Whether you take it with grace or make a fuss out of it, I hope you listen to my points and take a deep breath. This isn't the end of the road, Hillers!