Literary journal soars to new heights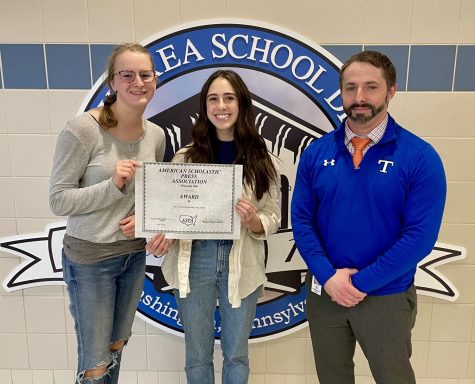 The Trinity High School Literary Journal was recently awarded a First Place Award by the American Scholastic Press Association for its 2021-2022 volume. This impressive accolade resulted from a year of hard work and dedication by the journal's staff. This year, the literary journal has its sights set on success again with its 2022-2023 journal, themed for favorite places and travel. 
In the 2021-2022 school year, the journal's theme was the four elements: fire, water, earth and air. Each grade was assigned its own element and there was an additional section for alumni and teacher submissions. There were approximately 150 submissions, culminating in an impressive 175-page work showcasing THS student and faculty artwork and writing. 
The theme for this year is favorite places and travel, and the exact categories for each grade level are yet to be determined. 
On choosing the annual theme, Senior Riley Dunn, one of the Co-Editors-in-Chief for this year's journal, said, "One of our members came up with it last year, and everyone agreed that it would be a really cool and unique theme for us."
Dunn, who was Editor-in-Chief last year, and Senior Hannah Eisiminger are Co-Editors-in-Chief of this year's literary journal. The current staff is comprised of twenty students from all four grades. Each grade level will be assigned a section editor, though those positions are, at time of publishing, to be determined. The club is student led, but English teacher Ms. Shaw oversees it as the club advisor. 
The literary journal is already working on the 2022-2023 collection, and submissions opened on February 1. As entries come in, the staff will review them and ultimately select finalists to be edited and published in this year's work. They will do their best to accept as many submissions as possible. 
The THS Literary Journal staff is excited to get to work on this year's volume. They encourage all students to submit their favorite pieces of art and writing and can't wait to read their peers' talented submissions!