Grab some popcorn, these movies are showstopping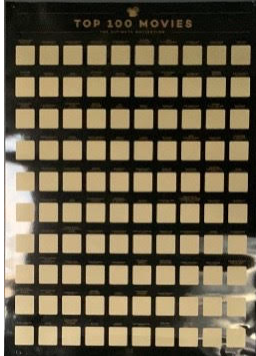 With movie-making technology advancing year after year, it's hard to pick just five favorite movies, but I've done that very thing. In no particular order, here are my top five favorite films and what makes them so great.
My number one is, "Dead Poets Society," directed by Peter Weir and starring Robin Williams. The movie was released on June 2, 1989. It is an adaptation of the book written by Nancy H. Kleinbaum. The film follows a group of young men who attend a private boarding school called Welton Academy where they meet their new English teacher John Keating and he teaches them about the Dead Poets Society. 
The movie highlights the importance of seizing each day and living it how you want to. If you like happy endings, this is definitely not the movie for you, but if you enjoy a great story that shows you how to make the most of your life, you'll love "Dead Poets Society."
If you enjoy a plot twist like I do, then watching "Fight Club" is a must. "Fight Club" is a 1996 novel by Chuck Palahniuk. There was a movie adaptation made in 1999 directed by David Fincher. I realize I'm breaking rules one and two by talking about it, but this movie is truly a work of art. It stars amazing actors and actresses such as Brad Pitt, Edward Norton and Helena Bonham Carter. There's not much to say about the movie without spoiling it, but it's a one-of-a-kind film that showcases a phenomenal plot. 
For my third pick I must say, Ari Aster is the best director the screens have seen recently, and he's nowhere near stopping. Aster released one short film and two movies, "Hereditary" and "Midsommar." Aster is also releasing a new movie titled "Beau is Afraid" starring Joaquin Phoenix. However, my pick goes to "Hereditary."
The film came out in 2018 and has become a favorite of most horror movie fanatics. The movie starts with the death of a family's grandma, and they soon find out just how secretive she really was. As they start to uncover secrets about their ancestry, they begin trying to outrun the terrifying fate they have been passed down. This movie is based on grief and horror instead of jumpscares and blood, making it stand out in its genre.
If you have a passion for music then this next pick is for you. "Whiplash" by Damien Chazelle is one of the greatest and most underrated movies I've ever seen. It's hilarious and witty along with being intellectual and intriguing. 
"Whiplash" came out in 2014 and stars Miles Teller and J.K Simmons. The film showcases Andrew Neiman, a young jazz drummer, trying to be the best in his music conservatory, and Terence Fletcher, an instructor known for his petrifying teaching methods. Overall, this is a fantastic movie that has some epic one-liners and an incredible plot that's hard to forget.
For my last pick, it's an oldy but such a goody: "The Shinning" by Stanley Kubrick. The movie was originally a book by the king of horror himself, Stephen King. This movie has the best cast by far starring Jack Nicholson and Shelley Duvall as Mr. and Mrs. Torrance. Part of the reason this movie is so special is because of their looks. Nicholson has a perverted way of smiling ear to ear while slightly tilting his head down, making him terrifying to look at, whereas Duvall has a really innocent appearance with eyes that sink into her face like a Tim Burton character.
The film follows Jack Torrence and his family after he gets offered a job to become the winter caretaker at the isolated Overlook Hotel in Colorado. He accepts the job thinking it will cure his writer's block. Little do they know their son, Danny, was born with psychic premonitions. As Jack's writing goes nowhere and Danny's visions become more disturbing, Jack discovers the hotel's dark secrets and begins to unravel into a homicidal maniac.
So there it is, my top five favorite movies. I also have several honorable mentions such as "Pulp Fiction," "Dune," "Shutter Island" and "Perks of Being a Wallflower." If you're a movie lover or aspiring to become one, I highly recommend getting the top 100 best movies poster from Amazon and begin growing your library of movies.
About the Writer
Dresden Bouman, Staff Writer
Dresden is a junior this year at Trinity High School. This is her first year on the newspaper and she couldn't be more excited. When Dresden isn't...