Students get crafty with Valentine's Day gifts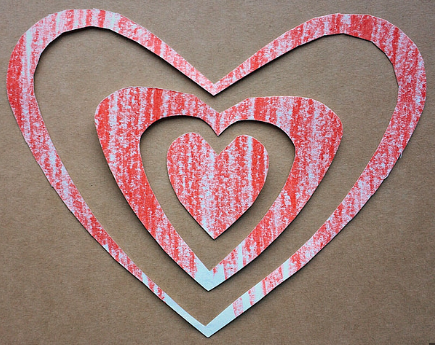 Whether it's for a friend, family member or love interest, Valentine's Day is the perfect day to show someone love and appreciation. However, with the winter holidays just weeks behind students, spending budgets for many can be tight.
Common Valentine's Day gifts throughout history have included flowers, chocolates and jewelry, which can all get fairly expensive. 
With all of this in mind, the question arose: why spend money on something impersonal like the traditional chocolate and flowers when a Valentine could receive a much more personal homemade gift?
Homemade gifts are not only much more affordable than purchasing a gift, but they are also far more meaningful to the giver and receiver. Teacher Mrs. Aliveto recalled a time that she received a homemade Valentine's Day gift from her daughter. 
"It's so sentimental and special to get homemade gifts like that," she said. 
A simple craft that will tug on your valentine's heart strings is a paper flower bouquet. This is a homemade gift  that can be created in a very personalized and thoughtful way. The only materials that are required are scissors, white paper, colored pencils/crayons/markers and colorful yarn or ribbon. 
By cutting out rectangles of paper, coloring the tops, rolling the paper and adding green around the flowers to create leaves, a perfect paper flower bouquet is created. To make this gift even better, write messages or admirable qualities of your valentine in the rolled flowers.
If the valentine in question is a lover of music, one craft that would be perfect to give them would be a CD or vinyl record card. Enclosed could be songs that remind you of your valentine. One could even go the extra mile by burning those songs on a real CD as well and adding that into the card or creating a playlist for that person.
The required materials for this craft would be scissors, black or gray paper to cut out a CD or vinyl shape, white paper to make an envelope, colored paper to create hearts, and colorful markers. Fun personalized stickers can make the card even more festive, but those are optional. 
One last homemade Valentine's Day gift is a bit lengthier. Every day of February up until the holiday, create a note or small card for the said valentine with a sweet message or compliment in it. Try to hide it in their binder, backpack or coat so that they find it and receive a sweet surprise every day until Valentine's Day. 
Valentine's Day is a holiday that is about more than the gifts given and received. Senior Selah Taggart explains her opinions on the importance of the day.
"I like how Valentine's Day is a reminder to be intentional about showing love to the people that we care about," she said. 
Love can be shown in an infinite amount of ways. This holiday, remember to show love to those most important in life. If a homemade gift works best to show that love, great! However, a few simple words, a hug or anything else in between can show the same appreciation.
About the Writer
Abby Drezewski, Staff Writer
Abby is a senior and is super excited to be on the newspaper staff this year! When not in school, she enjoys playing guitar, performing in and writing...