Trinity girls "shoot" through basketball season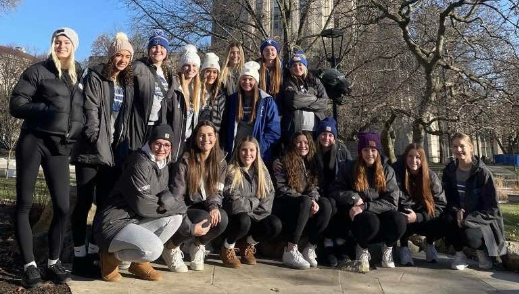 When it comes to playing basketball, the Trinity girls' basketball team does not mess around. The team is ready to play through the season and their motivation for winning is in full swing.
The girls meet to practice in the gym for two hours everyday, except Sunday, to work on their plays. Junior Riley Corrins says they do a lot of conditioning at practice. In addition to the conditioning they also frequently run full court drills and scrimmages. 
Since Trinity's section has changed to a 5A bracket, the team has had to readjust to the more challenging teams they have to prepare to play this season.  The team says their new rivals are now South Fayette because they won the WPIAL title last season. 
Even when things get hard, the team does not let that break their bond. When it comes to bonding activities, Junior Agatha Niccolai and Senior Captain Eden Williamson say that their trips to DC are their favorite team memories. When the team is in DC, they play about two games, hangout and do full team activities. Corrins says that her favorite team activity is the Christmas party they have, allowing them to have some extra time together to hang out and expand their bond. 
Even when a player gets hurt or sick, the team finds a way to recover and push through the rough spot. Niccolai says that the team has a very close bond and that helps them play their best on the court.
"Our bond as a team helps us work together on the floor," she expressed.
When it comes to the team's goals, the sky is the limit. Evidently, the girls as a whole want to win this season, but Corrins says that her personal goal this season is to "get over it and go to the next play" if she makes a mistake on the court. Niccolai also commented that her goal this season is to score more. 
Although this season has just  started, the Trinity girls' basketball team has worked so hard to get where they are, and they are excited to see how the season turns out!
"We have worked so hard to get where we are, and we are proud of how far we have come, but there is always more work to do," said Williamson.
Good luck this season, girls!