Sign of the Times: Why 2022 was Harry Styles's golden year
Harry Styles does it all: singing, dancing, acting and selling nail polish. Since leaving his former band, One Direction, in 2015, Styles has continued to grow his personal brand and establish himself as a solo artist. For this, 2022 was his most substantial year yet.
Styles delighted fans in March 2022 by announcing his highly-anticipated third solo album, Harry's House, after teasing it for months. April 1 marked the release of the album's lead single, "As It Was."  Immediately after its release, the song earned the title of Spotify's most streamed in a twenty-four hour period by a male artist and debuted at number one on the Billboard Global 200. The song ended 2022 as Spotify's most-streamed song with 1.6 billion plays.
The remaining twelve Harry's House tracks were released on May 20. The final product features lots of upbeat party anthems such as "Music For a Sushi Restaurant" and "Late Night Talking," while sprinkling in some slower, more emotional pieces like "Little Freak" and "Matilda." Styles takes inspiration from the "city pop" genre to create an album that has led to his first ever Grammy nominations in the Album, Record and Song of the Year categories. 
Styles debuted some of these new hits before their official release when he headlined Coachella for his first time in April. For weekend one of the music festival, Styles danced around in a disco ball-esque jumpsuit and stunned fans by inviting pop-country legend Shania Twain to be a guest performer. Styles went with a metallic pink vest and matching pants for weekend two. This time, he was joined by popstar Lizzo for a special rendition of "What Makes You Beautiful" from Styles's days with One Direction.
Styles's year saw the continuation of his "Love on Tour," which covered seventy-five performances in 2022 alone. The singer and his band traveled across North America, Europe and Latin America and completed historic residencies in New York City, Austin, Chicago and Los Angeles. While his venues are often filled with tens of thousands of people, Styles uses his concerts as opportunities to build personal connections with his fans. He lights up the stage while singing the hits, but also takes time to hand out relationship advice and sing "Happy Birthday" to fans.
Styles visited PPG Paints Arena as part of "Love on Tour" in 2021, but he hasn't made his way back to Pittsburgh since then. Numerous Trinity students made the trip to New York City to attend his residency shows during 2022, including Freshman Leah Ross.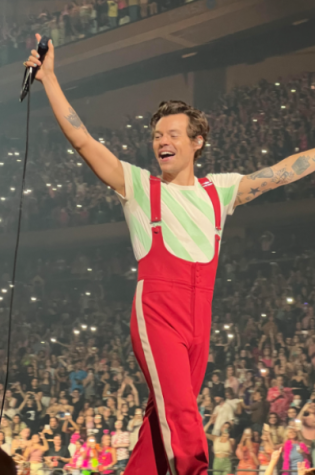 "The [concert] atmosphere is very vibrant, very diverse and filled with a lot of fun people. There were lots of feather boas, as well," said Ross as she described her time at the performance.
Between touring the world, promoting Gucci collections and dropping products for his beauty brand, "Pleasing," Styles found the time to attend press events for his two new movies, the psychological thriller "Don't Worry Darling," and the historical drama "My Policeman." The films feature Styles in his first starring roles alongside famous names such as Florence Pugh, Chris Pine and Emma Corrin, and many critics believe that the newcomer shows promise in the acting world. Fans may have a chance to catch Styles in future Marvel movies, as he made a short cameo in 2021's "The Eternals."
Senior Tessa Lerner recalls her reaction to seeing Styles on the big screen.
"I couldn't sit still. I was hyperventilating just at the trailer of 'Don't Worry Darling.' I know he's in the movies, but I still freak out when he's on the screen for some reason," said Lerner.
Beyond the world of music and movies, Styles has been praised for being an activist for social justice and climate causes. Even when faced with those who criticize his appearance or personality, Styles serves as a constant reminder to treat people with kindness.
"I think his greatest impact on all of the people listening and watching him in shows is acceptance. He gets up on stage and dresses how he wants, sings whatever songs he wants and just is who he is. That's why I love him," said Junior Sidney Watson.
Styles took to social media on December 15, 2022, to reflect on his year.
"2022 changed my life. I can't begin to thank all of you who supported me through it, I'll never forget it. I hope your end of year is filled with happiness and calm. Love you all. See you next year. H," he wrote.
About the Contributor
Hannah Eisiminger, Feature Editor
Outside of school, Hannah can usually be found catching movies with friends, hiking local trails, wandering around art museums, or grabbing tickets to...