Berry travels during gap year
There are many options for students after high school. Whether that be a trade school, college, job or traveling, there are many alternatives for everyone. 
2022 graduate Even Berry decided to take a gap year before starting college, choosing to do volunteer work and travel to different continents. He traveled and volunteered in Peru for three months and is currently volunteering and traveling in Madagascar for six weeks. 
Berry always knew that he wanted to take a gap year before college and be able to travel. He had previous experience traveling these distances as he had spent six months in the Gambia in 2016 with his whole family. They traveled there as a result of his mother getting an offer to teach upper-level math at the college there. They lived in a compound among the locals and explored the land around them as often as they could. 
When he was adamant about traveling, he and his mom started researching the best and most cost-effective way to do so. They both separately found the company International Volunteering Head Quarters (IVHQ). IVHQ is one of the world's most trusted and affordable volunteering programs. They have many projects and different time lengths to suit anyone's interests.  
Berry went through Maximo Nivel in Peru and the costs covered two meals a day, housing with an exchange family, and it provides aid to the volunteer's project. He believes that he spent about $500-600 a month out of pocket for food, activities and gifts. 
Transportation is also not provided with the cost so individuals wanting to go should familiarize themselves with the bus, taxis and metro systems of their destinations. 
Before leaving the continent, Berry had been on two cross-country road trips to Colorado and Florida and returned to prepare about two weeks before he left.
During his travels to Peru, he spent two and a half months working at a dog shelter with other volunteers in San Jeronimo, Cusco, where he worked with around forty dogs for five hours a day.
While working there, a particular dog caught his eye. The dog's name was Kayra, and she was around four years old. She was incredibly sweet and Berry knew that he needed to bring her home.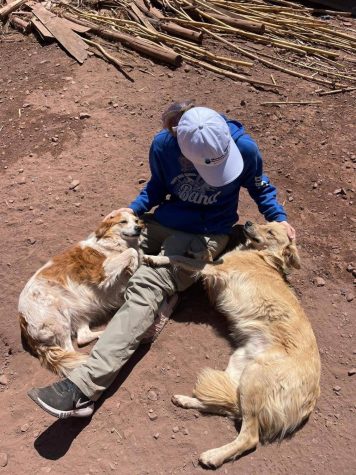 He had previous experience bringing animals back to the States after his family adopted and brought Pumba, their bush dog, from the Gambia. 
The rules for bringing home animals into the U.S. have tightened up since the pandemic, and many tasks need to be completed before Kayra can even be considered for admission into the United States. They need blood tests from Chile as well as an import permit that has a two to three-month waiting period just to hear back. 
Through these difficulties, Berry tried his hardest to get this process done correctly while also figuring out when he could bring the dog home. He plans to go back to Peru after returning from Madagascar to pick up the dog.
In Peru, he also spent two weeks in a wooden shelter near the river of Puerto Maldonado doing jungle conservation in the Amazon. This work consisted of catch and release, tagging animals, maintenance work on the sanctuary and the trails and replanting projects. 
After finishing his time there, Berry embarked on a mini adventure through Peru visiting Puno, Pisac, Ollantaytambo and Machu Pichu.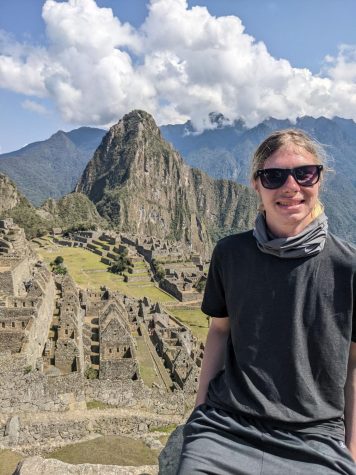 He returned to the states at the beginning of December and embarked back out on January 13 to Madagascar for six weeks.
In Madagascar, he currently is helping to conserve sea turtle nests down on the beaches. The program also trains volunteers when they arrive so it is always a learning experience. 
After these six weeks in Madagascar, Berry will be back in the States and preparing to attend college at W&J for computer science. He plans to spend many semesters abroad during his time there and take advantage of the Magellan Research project that allows students to travel to perform a research trip. 
Berry advises, "Do it, there's a big world out there and it might help to get out there and experience it."
There are many great experiences out there to chase, especially while students have the time. Whether it be traveling for a semester abroad, a volunteering trip, or just personal travel, there are many options out there to peak interest.