Student of the Month: January- Kelsey Vanderhoof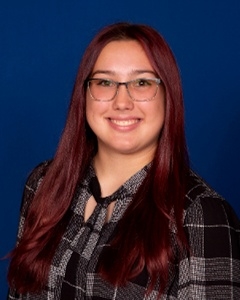 I am pleased to nominate Kelsey Vanderhoof for Trinity High School Student of the Month for January.
Kelsey is a tremendous student, but more importantly, a tremendous person. She frequently helps the students around her during class with any questions or issues that they may have. She is very patient during class and group work with those around her. She always has time to give other students a word of advice or a general "pick-me-up" if they are feeling down. She does all of that without the need or desire to be recognized; she does it because she truly cares.
Moreover, Kelsey has an incredible array of interests and skills. She excels in mathematics, the arts, and computers. She has taken many of the Math AP courses, in addition to four years of Chamber Choir, and numerous Art, Design, and Drawing courses. She also is a veteran of  multiple computer classes taught from both the Math and Business Departments.
Kelsey is the consummate student, but more importantly, she is an outstanding individual. She has a tremendously bright future and will be highly successful in all that she does. Kelsey Vanderhoof is a true joy to have in class; therefore, she is an obvious choice for THS Student of the Month.
Nominated by Mr. Alex Skroupa