Ball Drops into New Year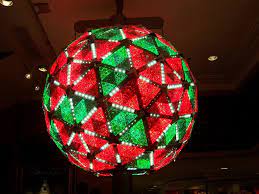 What's a New Year celebration without old traditions? All around the world, there are so many different celebrations like the Times Square ball drop, but why do we have traditions like this?
One of the most popular traditions is dropping the ball in Times Square. The ball drop is based on a much older practice. In 1833, London started dropping a ball daily, at 1 p.m., to help captains of passing ships tell the time. Soon after, 150 more were installed worldwide to help tell the time.
The first ball made for celebration was in 1904 by Adolph Ochs, an American newspaper publisher, for the celebration of the "One Times Square" newspaper opening. Ochs and Artkraft Strauss, head of "One Times Square," used fireworks as well, but wanted something bigger that would catch people's eyes and decided to drop a time ball made from iron and wood 10 seconds before midnight. 
It was in 1955 that a third ball was used to actually celebrate the New Year in Times Square. The ball was reconstructed from aluminum and weighed 150 pounds. Jacob Starrs, who made the first ball for the newspaper opening, had the idea to use the ball for a New Year drop. Starr wanted to use something that would light up the city, which instantly grew popular with the public. 
The ball was hand-lowered for its first 87 years. 
In 1979, the ball dropping finally became an in-person celebration. Millions of people crowded in Time Square to count down and watch it drop, celebrating a new beginning of the year. 
Over time there have been seven New Year's balls. These have varied from red and green colors to the crystal ball used now. 
The same ball has been used each year since the 1980s and it sits above Times Square waiting for New Years Eve. 
The ball drop isn't the only New Year tradition. Some other popular traditions around the world include the onion drop in Bermuda where an onion is covered in Christmas lights and then dropped in St. George's Town Square. In Russia, in Moscow's Red Square. Russia's national anthem is played followed by fireworks.
Apart from popular traditions, there are family traditions that also come into play.
It's a great new year to become a fresh version of yourself, Hillers.
About the Contributor
Alyssa Wells, Staff Writer
When not busy with homework or extracurriculars, Alyssa is normally working or reading. She enjoys hiking, nature, drawing, running, working out and spending...