Apple Music, Spotify wrap up 2022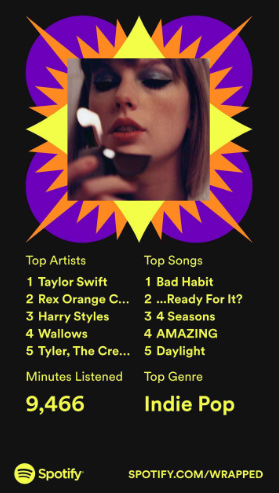 Spotify and Apple Music have made it an exciting time of the year for music lovers. In 2016, Spotify created Spotify Wrapped, a marketing campaign that collects all of the music the user has listened to and shows their most-listened to artists, genres and songs from the past year. This became a major hit and allowed Spotify users to share their data with others.
In 2019, Apple Music followed and created Apple Replay, which allowed Apple Music users to see all of their data including their top ten most-listened to albums. Apple Music has changed a few things this year to compete with Spotify. Apple made it so users can access their data year-round as it changes and will be available until the end of the calendar year. They also show their viewers their top 10 artists, albums and songs whereas Spotify only gives the listener the top five.
Most Spotify and Apple users have stated that receving their data is very exciting and they take it very seriously. 
Senior Silvio Corso said, "Knowing Spotify Wrapped is coming dictates all that I listen to. When I want to listen to the "Lord Of The Rings" soundtrack I listen on Youtube so it doesn't get tracked in my data." 
Senior Aiden McCoy agreed and said, "One time I wanted to listen to "Royals" by Lorde and I listened to it on Youtube so it wouldn't show up."
On the day Spotify Wrapped and Apple Replay came out, December 1, the media exploded from people posting their music data on all platforms such as Snapchat, Instagram and Tik Tok. 
"I judge people 100% when they post their Apple Replay and say they like punk music but listen to MGK, or they'll say they like grunge music and then listen to just Nirvana," McCoy commented.
The most streamed artist globally this year was Bad Bunny, who also got the most streamed album Un Verano Sin Ti. The top song in 2022 was "As It Was" by Harry Styles and the most viral artist globally was Taylor Swift. Finally, "The Joe Rogan Experience" became the most popular podcast globally.
Since 2022 is coming to an end, Spotify and Apple Music will restart their data for 2023.  If you aren't on one of these platforms, now is the time to participate in the holiday music festivities.
About the Contributor
Dresden Bouman, Staff Writer
Dresden is a junior this year at Trinity High School. This is her first year on the newspaper and she couldn't be more excited. When Dresden isn't...