Extreme gingerbread houses "spice" up holiday season worldwide
Fewer baked goods are more closely tied to a holiday than gingerbread is to Christmas. Gingerbread houses, especially, are a fun and easy way to spend time around the holidays with friends and family. But not all gingerbread house construction is relegated to prefab kits on relaxed winter evenings; along with competitions that test entrants' artistic and architectural prowess, extreme gingerbread houses have recently exploded in physical size and popularity. 
Long before candy cane chateaus and edible winter palaces were pitted against each other for top prizes in the thousands of dollars, gingerbread was far from a once-a-year holiday treat. The earliest recipes for it were from ancient Greece and were reminiscent of soft honeyed loaves. With the advent of intricately carved wooden molds in medieval Europe, gingerbread began to more closely resemble its present form. By the 19th century, bakers in Germany started to craft houses out of gingerbread around the Christmas season, and a soon-to-be international tradition was born. 
Gingerbread house competitions didn't become commercially popular until the latter portions of the 20th century. In the U.S., the Annual National Gingerbread House Competition has celebrated the competitive art form for the last 30 years. Held at the Omni Grove Park Inn in Asheville, North Carolina, competitors from as far away as Canada enter their creations hoping to score a top prize of $7,500. In 2022, more than $40,000 was given out to the best entries across four age divisions. 
This year, the structures were evaluated by a panel of judges notably including Ashleigh Shanti, a 2020 James Beard award finalist, and celebrity chef Carla Hall. 
Locally, the city of Pittsburgh is celebrating its 20th annual gingerbread house competition. Historically displayed at PPG Place near Market Square, this year's entries are on public display through early January at the Allegheny City-County Building. 
While competitive gingerbread house builders pour hours into carving grandiose structures and delicately placing fantastical candy decorations, Missouri native Jon Lovitch has taken it to a whole new level. Lovitch is the acclaimed sole creator of GingerBread Lane, a Guiness World Record holding seasonal display that has been featured across the country, including an eight-year residency in Pittsburgh. 
Though he worked professionally as a chef in some of the top hotels in New York for a number of years, Lovitch now devotes his time year-round to crafting the massive gingerbread village. The display usually holds around 1,500 individual buildings, all made entirely from homemade gingerbread and edible decorations. This year, GingerBread Lane is on display at the New York Hall of Science. 
For Lovitch, the time leading up to opening is akin to a professional athlete training for a big race. With up to 100-hour work weeks, he'll dedicate every waking second to perfecting just the right angle and decoration on every building.
Though Lovitch's passion for gingerbread houses is certainly intense, extreme gingerbread house building has risen sharply in popularity in recent years. Food Network's The Holiday Baking Championship: Gingerbread Showdown sets teams of professional bakers against each other as they create show-stopping gingerbread castles and villages, and ArkDes, Sweden's national center for architecture and design, hosts an annual competition for professionals and home bakers alike that is displayed at its main campus in Stockholm. 
Yet it's understandable that not everyone looking to build a gingerbread house desires extreme-sport-level intensity. Many people view the activity as a much more relaxed holiday event. 
Freshman Katherine Drezewski looks forward to making gingerbread houses with her family every year. 
"My favorite part [of making gingerbread houses] is probably eating my resources while I'm making the houses. I like that I get to eat some extra candy," she said.
Drezewski's favorite house to date was her creation last year, which she decorated with Reese's peanut butter cup windows and lots of Twizzlers, but she's equally excited for her plan this year: a replica of the local Target store.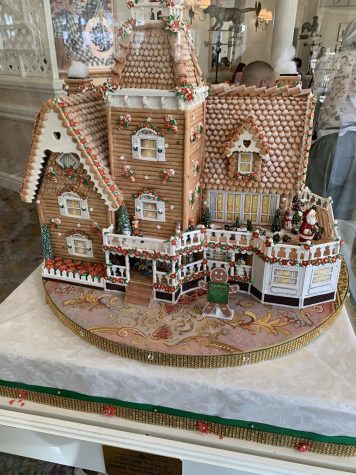 Mr. Phillips, math teacher, also enjoys building gingerbread houses, usually with his sons and nieces and nephews. This year, they used an Oreo-themed kit to build their village. 
Phillips offered advice to others looking to make their own tasty gingerbread town: "When you are going to put the walls of the house up, put some icing on a plate first and stick the outside edge of the wall into it. Then, when you put the wall on the base it won't slide around, and the icing won't make a mess everywhere."
Whether one views gingerbread construction as a balance between athletic precision and artistic skill or a simple weekend project, there are many avenues, from pre-made kits to recipes for structurally sound cookies, available to get started on a home gingerbread village. For extra inspiration this holiday season, check out the designs at GingerBread Lane or ArkDes and gather with friends and family to put together an extreme, or not-so extreme, gingerbread village.