Trinity girls pin new wrestling club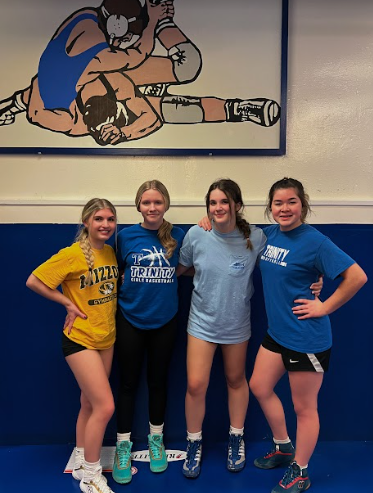 A new girls' wrestling club has been formed at Trinity High School. Because of the present athletic rules in Pennsylvania, girls' wrestling cannot be a school-sanctioned sport. It can, however, be a successful and thriving club.
At the high school, there are currently four girls on the team: Senior Anna Johnson, Juniors Nila Bland and Kenzie Phasupong and Freshman Lily Hoy. The club is also open to middle and elementary school students, and there are several girls in the club from those age divisions as well. There are two coaches, Coach Seth and Coach Grant, who are assisted by Rob Bland. 
The club participates in group practices as well as local tournaments and matches. A typical practice includes a 15 to 20 minute warm-up before starting on drills to sharpen their footwork and stance skills. After that, they move into defensive and offensive work with partners and learn new skills. At the end of a practice, they sometimes do conditioning or lifting or scrimmage in "live" matches where they wrestle with each other as they would in a real match. Sometimes they'll also cool down with group game of dodgeball.  
The girls recently participated in their first tournament called "Monster Mash" in Monroeville, PA, on October 21. Overall, the combined efforts of Trinity's varsity, junior high and elementary participants took home a second palace win for Trinity. 
Notably, Phasupong pinned all of her opponents and achieved first place in the girl's high school division. 
Bland shared that girls' wrestling is one of the fastest-growing sports and offers good scholarships, builds character and makes one strong both mentally and physically.
Bland stated, "It's not that scary to try something you've never done before. It's not just a boy's sport. We want to encourage girls to try new things."
Johnson also commented on the mindset it takes to be a female wrestler: "Lots of work is put in every day, and it takes a lot of guts for boys to go out and wrestle, let alone girls. Confidence is key, and you can't get frustrated."
Aren't sure about wrestling yet? Well, anyone is able to attend a practice or tournament to see what it is like. 
The girls' next matches will be a round robin scrimmage between Canon Mac, Connellsville and Trinity held at Cannon Mac on November 26, 2022.  
The next home match will be held on January 11, 2023, against South Fayette. Both girls' and youth wrestling will be recognized at this event. 
Those interested can support the Lady Hillers by showing up to their next tournament. Best of luck to all on the team!