Hiller Hall of Fame gains recognition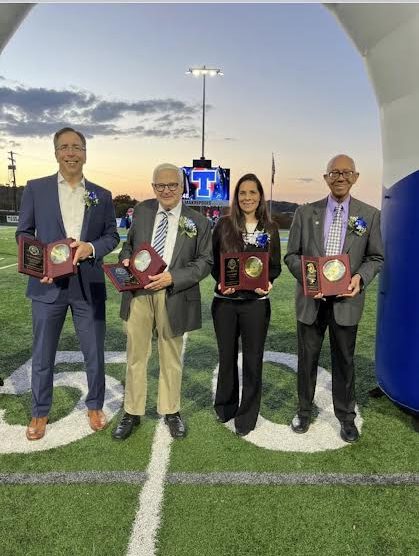 The Hiller Hall of Fame is a showcase at Trinity designed to recognize alumni of the school for outstanding accomplishments. Also referred to as the Wall of Honor, it has been displaying inductees since 2015.
As for the kinds of achievements Trinity alumni are recognized for, there is a variety. Ranging from above and beyond research in scientific fields to military excellence, the Hall of Fame focuses on much more than just athletics.
According to biology teacher and Hall of Fame inductor Mr. Smith, "The Wall of Honor was created with the desire to recognize Trinity alumni in their achievements in arts, education, business, government and community." 
The graduates of Trinity High School distinguish themselves from others in multiple ways. Smith mentions that each inductee in the Hall of Fame has achieved importance in their respective field. 
"They're high-quality people that are all more than deserving of their acknowledgment," Smith says. 
In asking Smith why the Hiller Hall of Fame was important to him, he responds with, "As a teacher, I want students to make these people their role models. I think it's really important for them to look at their accomplishments and become inspired because of them, especially since they all graduated from Trinity."
The latest inductees to the Hiller Hall of Fame are as follows: Dr. Andrew Goudy, Dr. Beth Gardner, Dr. Michael Faust and Edward Romanoff. Each of these people have demonstrated extraordinary work in their community and in their occupations.
Dr. Andrew Goudy, a 1961 graduate, is an amazing community leader in the NAACP, as well as a researcher with outstanding contributions to the chemistry field and dedicates his life to community service and education. While at Trinity, Goudy was on the Academic Educational track, FutureTeachers, the track team and Letterman's Club. 
Goudy obtained a PhD in physical chemistry from the University of Pittsburgh and later became a chemistry professor at West Chester University. He finished his teaching career at Delaware State University where he was appointed as Chairman of the Chemistry Department. As his career came to a close, he became a more involved leader of the NAACP.
A 1995 graduate, Dr. Beth Gardner is a statistical ecologist and is the director of the Center for Quantitative Sciences at the University of Washington in Seattle. In her high school career, Gardner was a leader in many extracurricular activities and a National Honor Society executive. She is described by her teachers as an "excellent, well-rounded student" who was always known to go above and beyond in all of her work.
Gardner became an Associate Professor in the School of Environmental and Forest Sciences after graduating and was an Associate Editor at a large peer-reviewed journal. Among these jobs, Gardner is also a faculty member for Women in Science programs because of her interest in helping to improve quantitative approaches in ecology and provide reliable information for conservation and management.             
Dr. Michael Faust is a 1986 Trinity graduate who has become a favored local pediatrician. During his time at Trinity, he won accolades for his musical talent. He attended the Mid-East music conference twice and was considered a gifted student. Faust received the Observer-Reporter Best Pediatrician in 2017, 2018 and 2019 and has aided in the development of the Washington Hospital Children's Express to provide after-hours care.
Faust has also served on the neonatal resuscitation team. Along with this, he is currently the Executive Director of the Physician's Staff of the Washington Physician's Group. During the rise of COVID-19, he heroically served as Trinity Area's medical expert during the first wave.
Edward Romanoff graduated from Trinity in 1963 and is a communications consultant to leading corporations and organizations. He is well-versed in crisis communications, media relations, marketing communications and community relations. While in high school, Romanoff was President of the National Honor Society and the Future Teachers of America, was a member of the Hiller newspaper, and later became a representative of the Pittsburgh Press where he interviewed celebrities like Johnny Carson.  In college, he took on leadership roles at Washington and Jefferson College and completed graduate work at Northwestern University where he was selected to be a Washington D.C. correspondent for multiple newspapers.
Romanoff served clients such as Dupont, Honeywell International and BP later on in his career. He became Senior Vice President of Allegheny International and was the managing director of his own Pittsburgh consulting firm. Later in his life, he developed electronic communication tools and conducted media training for executives and even worked for NBC-TV affiliates.
Besides the most recent Hiller Hall of Fame inductees, Smith encourages anyone with suggestions of people to be inducted into the Hall of Fame to fill out a form on the Trinity website. New nominees are always welcome.