Trinity girls' volleyball "spikes again"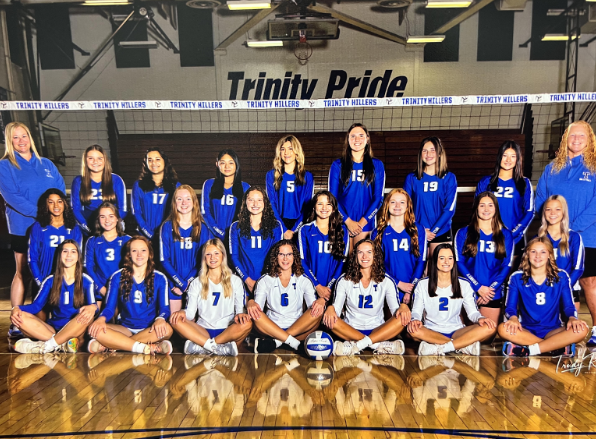 It's fall, which means that girls' volleyball is back and better than ever!
Mrs. Helmkamp, the head coach, said that they have had a great start to the season. They are currently 2-1 in their section and 4-1 overall. Their best game so far was when they came in second at the Moon Tournament on September 10.
Helmkamp commented, "I absolutely love the sport of volleyball, and since I can't play any longer, coaching is a great way to stay involved in the sport. We have an awesome group of girls that love to play and I enjoy their energy and enthusiasm! Working with them to get better at skills and as a team is what is most enjoyable."
Riley Corrins, a junior and setter on the team loves the game just as much as Helmkamp: "I have so much fun while playing. On the court and off the court, the energy is just so enjoyable." You could say it was love at first spike!
This positive energy is what inspires the girls to try so hard in practice. The girls perform a variety of exercises to prepare for upcoming games. Corrins said that endurance serving is a tough exercise that consists of five serves followed by different activities after each serve. After the second serve, they go block at the net and do hitting approaches, after the third they block again and then dive to the floor. After the fourth serve, they perform 10 crunches and 10 shoulder taps. And finally, after the last serve, they have to sprint to the other end of the court. It is a vigorous drill that teaches hard work and helps form relationships among the girls.
The senior players this year are Rayne and Rylee Elling, Sarah Hartmann and Grace Coyle and they have been working hard this season to make this year memorable.
This year, some of the volleyball players have been recognized for their hard work. At the Moon Tournament both Rayne Elling, senior, and Maddy Roberts, junior, and captains of the team, were named to the All-Tournament Team. Last year, both Elling and Roberts were first team all section. Roberts was also WPIAL All-Star 2nd Team and Elling was WPIAL All-Star 3rd Team last year.
Helmkamp couldn't be prouder of what these girls have accomplished!
This year, with their section increasing in difficulty by containing two of the top 10 ranked in AAA volleyball: Moon and Oakland Catholic, they are looking forward to playing this tougher schedule and seeing where they stack up not only in their section, but within AAA volleyball in the WPIAL.
Trinity is excited to see what lies ahead for the Trinity girls volleyball team and their players and coaches.
Be sure to come out and support the Lady Hillers at their next game on October 4 at Chartiers Valley at 7:00p.m. or to their next home game against West Allegheny on October 6 at 7:00p.m.