Riley Dunn obtains Girl Scout Gold Award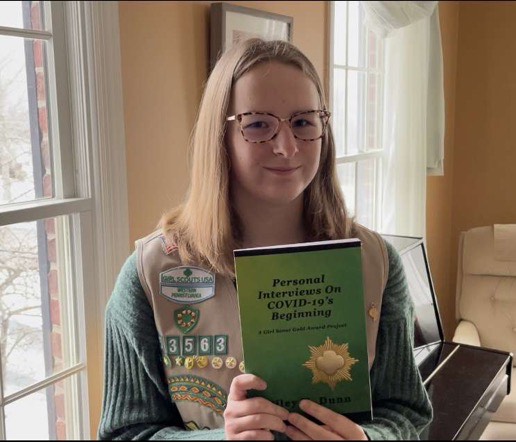 The Girl Scout Gold Award is a very high honor award that is a long-lasting community service project. It is quite difficult to achieve and is recognized highly. Junior Riley Dunn received this award in March of this year. She put hard work into this project and got the pay off by being awarded this achievement. 
Dunn wrote a book for her service project about people's experiences with COVID-19, called "Personal Interviews on COVID 19's Beginning." She interviewed people in the beginning of the pandemic to see what their thoughts were on COVID and how it was affecting them. Also, she hoped to spread the awareness that people aren't alone, even in the darkest of times. The idea was thought of in her freshman year of high school, right after COVID-19 became a pandemic. Her mother helped her brainstorm ideas for a project and this one resonated with them, as Dunn loves to write. 
In order to receive that Gold Award, which is the Girl Scout equivalent of the Eagle Scout in Boy Scouts, there is quite a bit of preparation involved. It starts with either completing a journey and receiving the Girl Scout Silver Award, another service-based award with less hours needed, or completing two journeys. A journey is usually a whole troop experience where they explore something community-based that they wish to understand more of and want to fix. 
The next step that needs to be done is a lot of paperwork. This paperwork outlines the project and gets turned in to the Girl Scout Council, where it is either approved or rejected. 
When asked how she got through the difficulties doing this project and staying motivated, Dunn responded, "Once I started my sophomore year and COVID-19 got worse, I lost a lot of my motivation for the project, and didn't know if I'd ever finish at that point. Finally, after I started my junior year I gave myself a deadline of January 6 because I wanted to submit part of my book to the Scholastic Art and Writing Competition. That helped me to write the final chapters and finally finish it." 
Dunn encourages girls who are considering doing the Gold Award: "The Gold Award is a wonderful project to have on your resume. It is also a good leadership experience and could open you up to different perspectives on various issues."
Dunn's project is accessible and available to buy on Amazon under the title "Personal Interviews on COVID 19's Beginning."
About the Contributor
Meredith Bryant, Staff Writer
When not busy with homework, Meredith enjoys being involved in lots of activities throughout the school and loves to read. She is passionate about music...