Wordle becomes world obsession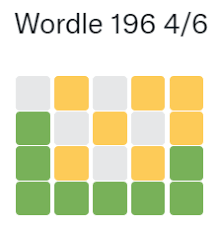 Wordle, a newly-founded English-based game, has recently taken the world by storm. This vocabulary-based game has quickly become a world-wide phenomenon that people cannot stop talking about. The basis of this game is that one has six guesses to guess the correct five letter word. After one guesses a word, they find out what letters from the word they guessed are in the word they are attempting to guess. If the letter shines gray, it means that this letter is not in the mystery word. A yellow letter means that the letter is a correct letter, but in the wrong place. Finally, a green letter means the right letter has been guessed and it is in the correct spot, too.
With Wordle, there is only one word per day, so after one does the Wordle for the day, they have to wait until the next day to do another one. Some people feel that this design has people on edge and coming back to play everyday. Other people think that there should be multiple words per day. The advantage to only having one word per day is that friends can compare Wordle scores with other people and know that they both had the same words.
Wordle became popular quite fast, and there is always the chance of its fame fizzling out just as quickly.
Junior Ashleigh Tuite predicted that, "I think Wordle will eventually die out but maybe come back in the future. I think this is due to a lot of things that die out over time like Tik Tok trends, pranks and even video games."
This game is a good brain strengthener, as it requires a lot of thought and a wide vocabulary range. Playing Wordle could help one to learn new words that can be used in the future.
Another thing many people like about Wordle is to share statistics of how they've done with family and friends. This has actually saved someone's life in the past. A woman who always shared her score with her daughter, didn't one day. The daughter got worried and called the police. When the police arrived, they reportedly found the woman locked in her bedroom with a man who would not allow her access to food, water or medications. The fact that not sharing her Wordle score was what saved her is quite impressive.
When asked if she shares her scores, Tuite replied, "I do not share my answers because I like talking and complaining about the word with friends."
Wordle is a website that many people find entertaining, and go back to everyday. It is a game with lots of thinking and even some logic involved. If this sounds interesting, try it out by searching Wordle on Google.
About the Contributor
Meredith Bryant, Staff Writer
When not busy with homework, Meredith enjoys being involved in lots of activities throughout the school and loves to read. She is passionate about music...