Mary Poppins flies into Trinity with new musical production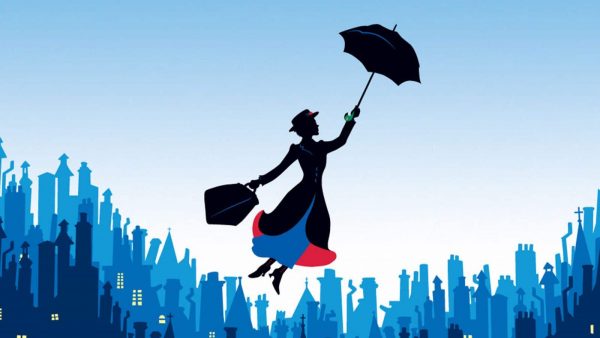 For years, Trinity High School's most theatrical students have been putting on the annual school musical. Performing in the musical is a fun way for these talented students to show off their unique acting and vocal skills. This year's musical, "Mary Poppins," is sure to be an exciting and whimsical show that will engage audiences of all ages. 
"As always, I'm very proud of the cast. Their hard work is going to shine through and make this production enjoyable for everyone. I'm thrilled to finally be putting on another full scale production after two years," musical Director Mrs. Child remarked. 
Child has directed eight overall productions for Trinity High School, beginning with "The King and I" in 2008. At first, she didn't know much about the stage version of "Mary Poppins" and was unsure about how it would work as a high school musical. However, after looking into the script and witnessing the wide range of the talent the school has to offer, Child fell in love with the show. 
This year, students have put their time and effort into the musical ever since they started practicing in late November. The cast feels and acts like a family when interacting with one another, making their time on stage more impactful. 
"I've always loved singing and music in general. I got lots of support from my parents as well. They met at a musical and have always loved music, so I grew up surrounded by it," Senior Savannah Ikach said. 
Ikach is playing the titular Mary Poppins in this year's musical production. She is thrilled with her role this year and cannot wait to share her voice and talent with Trinity. This year's production means even more to Ikach because it will be her first time performing in a complete musical since her freshman year. 
Ikach also mentioned that many people do not realize how much time and effort goes into a musical production. Each year, a large number of singers and performers join the musical. The stage crew also helps out by moving props and set pieces on and off stage. Said props are made and put together by adults and other high school students. In addition, the Director, Music Director, Choreographer and the people running the sound booth all play a part in making sure that every production runs smoothly. 
The musical will be in production from Thursday March 31 through Sunday April 3. Tickets can be purchased online at any time. Adult tickets are $14 and student tickets are $10
"Please come to see the musical. It's really exciting for us to be back on stage!" Ikach says. 
The Hiller staff wishes the musical performers, and everybody else who has helped to make it happen, good luck! 
About the Writer
Riley Dunn, Copy Editor and News Editor
When not writing for the newspaper, Riley can usually be found hanging out with friends, participating in extracurriculars or lounging around with a good...