Pens skate into season of goals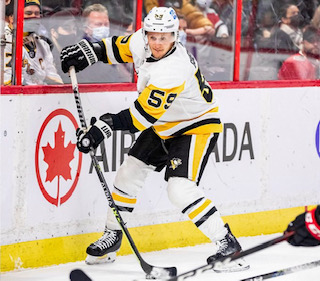 The end of October and beginning of November mean the Pittsburgh Penguins are back to playing hockey at PPG Paints Arena. This season the arena seats can be filled by spectators because many COVID restrictions have been lifted, which allows for a more exciting and energetic atmosphere for the players.
The season started out with five of their main players being out either due to injury or COVID. This created a little bit of worry for Penguins fans, as they weren't sure how the Pens would do without stars such as Sidney Crosby, Evgeni Malkin and Bryan Rust.
Even though they are missing players, their season has begun quite well. As of the 11th of November,their record was 4-3-4. Even when they lose, more than 50 percent of the time it's in overtime. 
Hockey Player and Junior Sara Setto offered her thoughts: "I'd say they are doing well. Even though they've had some great wins and not so great losses, they are still playing as a team. As a hockey player it's not always about the score, it's about playing as a team."
However, playing certain teams brings different dynamics. There are some teams the Pens have more of a rivalry with, such as the Philadelphia Flyers and Washington Capitals, and some they have more of a friendly game with, mostly being teams not in their division.
Freshman Wesley Black shared, "The team I think are the Penguins' greatest rivals are the Capitals. There's been a lot of tension over the years between the fans and a little between Malkin and [Alexander] Ovechkin." 
The Pittsburgh Penguins is a team Pittsburgh can be proud to have. They win quite often and they keep improving as they gain new players.
"They've definitely gotten better over the years. They've picked up players that have improved the team and hockey has evolved into a faster, more physical game," stated Black. 
The Penguins next games are the 24th and 26th of November against the Vancouver Canucks at 7:00 p.m. and the New York Islanders at 7:30 p.m. respectively. 
About the Writer
Meredith Bryant, Staff Writer
When not busy with homework, Meredith enjoys being involved in lots of activities throughout the school and loves to read. She is passionate about music...