Pumpkin carving turns extreme Halloween activity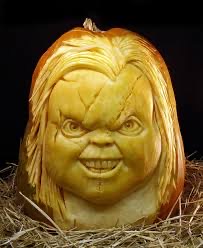 Pumpkin carving is a classic Halloween tradition we all know and love. But, some people create the best, most eye-catching designs. 
The activity of pumpkin carving has been happening for decades all over the world, with its origins in Ireland. 
The original idea of the jack-o'-lantern was to scare away evil spirits. The Irish would set the carved pumpkins or turnips by their doors and windows in hopes that they would protect them.
Over time, carving scary faces on a pumpkin evolved into the other forms of pumpkin-carving we see today. 
Today, people traditionally carve happy or scary faces, designs, or their favorite movie or TV show characters onto a pumpkin. Then it gets lit with a candle inside the pumpkin and set out on the front porch for halloween and all the trick-or-treaters to see. 
Competitions and TV show series have evolved from this idea. "Outrageous Pumpkins" on Food Network conveys this idea. 
Food Network states, "Seven expert pumpkin carvers compete for the title of Outrageous Pumpkins Champion and a sweet $25,000 Halloween treat. The carvers face off in outrageous challenges that test their creativity and pumpkin prowess as they sculpt gravity-defying scenes that celebrate Halloween."
Terrifying monsters, portraits, and beautiful masterpieces are carved into gigantic pumpkins creating show-stopping jack-o-lanterns.  
There are two seasons of Outrageous Pumpkins, binge them this fall on Hulu or start watching season 2 on October 29 on the Food Network channel and take some inspiration for pumpkin carving ideas. 
Many competitions run online that can be entered by submitting a picture. You can submit a picture or family or friends carving pumpkins then an up close picture of your design to www.pumpkinmasters.com for a chance to win up to $5,000. 
Pumpkin carving will continue to progress, this Halloween try to create more than just a scary face, explore your creativity and treat your own pumpkin as your art.
About the Contributor
Hunter Spears, Staff Writer
Outside of school Hunter is found working or at all star cheer practice. During her free time she likes hanging out with her friends or practicing to work...