Trinity High School welcomes Mr. Zebrasky as new administrator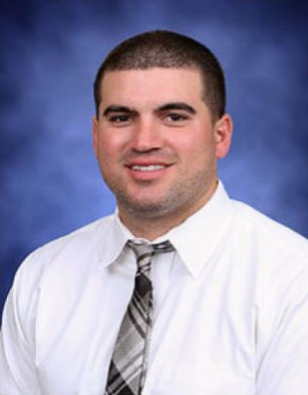 At the end of May, Mr. Zach Zebrasky will join Mr. Uram and Dr. Demian on Trinity High School's administrative team as a new Assistant Principal. Zebrasky is extremely excited to begin the next chapter of his career at Trinity and is looking forward to building authentic relationships with Hiller students and staff. 
The fields of education and administration seem to run in Zebrasky's blood, as his mother is a principal, his aunt is a retired principal and his father is a retired teacher and coach. To pursue his career goals, Zebrasky attended Washington and Jefferson College to earn a Bachelor's Degree and California University to earn a Master's Degree. In addition, Zebrasky is currently attending the University of Pittsburgh to pursue an Educational Doctorate.
When Zebrasky first began his career in education, he served as a high school history teacher and science teacher because he had a passion for both subject areas. With this experience in teaching, Zebrasky learned the importance of a student-centered approach to learning. 
"I will work with any staff member or student organization that strives to promote innovative learning methods for student success… it is my goal to ensure our students are prepared to tackle the workforce, higher education or whichever path they choose after high school," Zebrasky stated regarding the importance of adapting to the ever-changing field of education.
While Zebrasky valued his time as a teacher, becoming an administrator was always his goal as he firmly believed that it could allow him to have a greater positive impact on more people. Serving as Principal at Avella Elementary, Zebrasky learned important skills involving parent interactions, event planning and curriculum design that he can carry into a high school administrative environment. 
There are some differences between elementary and high school administration that Zebrasky will have to adjust to, such as helping to plan and shape careers for future student leaders. Overall, Zebrasky anticipates that one of the biggest challenges in his new job will be getting to know everyone. 
Regardless, Zebrasky thinks that entering the new high school environment is a great opportunity to meet new people and commented, "I am looking forward to getting to know the staff and students, sharing my lived experiences with those who have questions about their future and being a strong advocate for the Trinity community." 
During his first weeks at Trinity, in addition to getting to know more students and teachers, Zebrasky would like to attend a few extracurricular activities; he believes that the job of an administrator consists of more than just what happens in the office.
For students who wish to pursue a career in education and administration just as Zebrasky has, he encourages, "Education needs good people-good people who put others' needs ahead of their own. The education world needs people with a strong work ethic, a passion for learning and a strong set of core values to stand by…. It [education] is about building true, authentic relationships and guiding students forward in a positive direction." 
With this mindset, Zebrasky promised, "As the staff and students get to know me at Trinity High School, they will see a tireless worker who always looks for ways to enhance and improve the current system."  
The Hiller staff extends a warm welcome to Mr. Zebrasky and encourages the rest of the student body to do the same!