Spring cleaning, spring crafts: students prepare for new season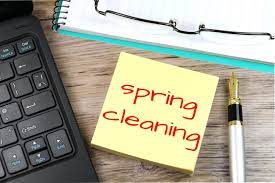 Spring is finally here, which means it is time for spring cleaning and decorating. For many people, cleaning can be a pain, but making fun and creative spring crafts while cleaning can make it much more enjoyable. 
A major aspect that both cleaning and crafts need is planning and organization. Different stores such as Michaels, Joann Fabrics and Hobby Lobby all sell products that make it easy to clean and organize and also make festive crafts for the season. 
"I like Michaels or Hobby Lobby for craft supplies. You can get so many ideas just by wandering through the aisles and they usually have a pretty good section of fine art supplies as well. Joann Fabrics is great as well if you like to sew. Spring is a great time to air everything out and start fresh. It's a great time to start new hobbies and get rid of all that stuff that has been cluttering up your corners," said art teacher Ms. Bennett. 
People can even create wonderful crafts with supplies found around houses such as buttons, string, old cloth and paper. 
Websites like Pinterest and Google are great for giving cleaning and organizational tips as well as ideas for different crafts.
"If I ever want to make a craft, I usually go on Google and they turn out well," stated Senior Paige Wiszczor.
Some fun crafts to make with simple at home supplies are paper flowers that only need construction paper and glue or DIY rainbows that only require cotton balls, crayons and any sort of cloth laying around.
To get the most done in a short amount of time, it is important to figure out how to work best. Cleaning and making crafts can be done with friends, family or even alone with some music to relax.
"I clean by myself, and I prefer it that way because I like to turn the music up really loud and dance when I clean.  My dog tries to help, but she always makes more of a mess. I usually end up taking her to my parents' house for the weekend so I can really do some deep cleaning," said guidance counselor Ms. Burns. 
Some people recommend listening to calming music while cleaning and creating to make the experience more enjoyable.
Spring cleaning may be a hard thing to get up and do, but with some festive crafts, good music and organization, it can be done without ever feeling like a chore!
About the Writer
Sophia Rahmany, Staff Writer
Outside of school Sophia enjoys working out and working on becoming a fluent Spanish speaker. Not only is she a talented bilingual speaker, but she is...