Take your best shot!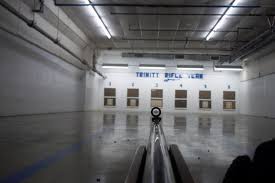 The Trinity Rifle Team is one of Trinity's best kept secrets. The team continues to uphold their winning history. Students on the team have the opportunity to improve their marksmanship and be a part of the rifle community. They are coached by Mr. Husk, a 2013 Rifle National Champion. 
The team has struggled with COVID-19 restrictions, but they are still having a strong season. They currently have a winning record, despite the struggle of trying to get valuable practice time in. They are managing the best they can. 
The team has some strong individuals that contributed to the success of this season. One senior, John Lowry, has competed in the previous WPIAL Championship. His marksmanship and hard work has helped him work his way up the ranks to a varsity spot. Junior Daniel Horne is also an excellent shot. He has been shooting on varsity since he was a freshman. He has competed in WPIALs his first two years, and he has also competed in the State shoots. Another senior, Angelina Cecchine, shot a 10x at WPIALS last year. She has been a four year member of the team. 
Most have been a part of the team since their freshman year. The team has become a family because of this. They bond not only through practice, but also the Christmas party held every year and the team dinners after every match. According to Lowry, the team experience is something that you will never forget.
"The rifle team jokes that you make on the way are something that you will never forget," Lowry states. 
Lowry and the team also want the underclassmen to know that high school isn't all about stress and studying. It is about making friends, thinking about the future, and living in the moment. Cecchine also encourages students to join the team: "I've had some of the best moments of my entire high school years at rifle. I encourage any students to give it a try. The coaches are so helpful and would do anything to see the kids on their team prosper." 
The Trinity Rifle team welcomes anyone who is interested in joining. See Mr. Husk for more information.