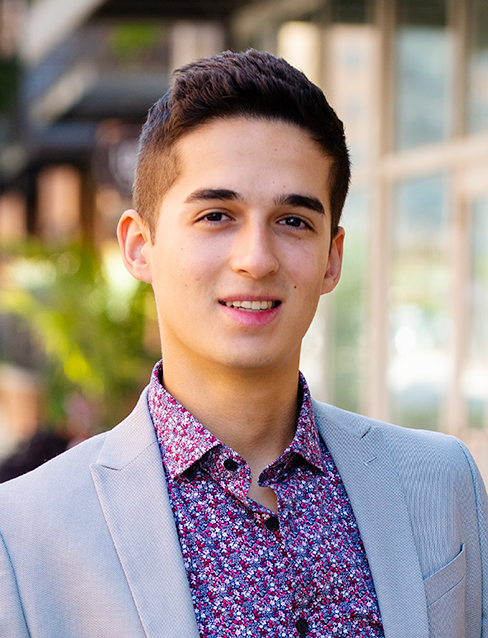 It is my pleasure to nominate Koen Weichel for THS Student of the Month for May.
Koen is an exemplary student and leader here at Trinity High School. He not only is a five-year member of the marching band but is also a member of track and field, National Business Honors Society, FBLA, and NHS. In addition to Koen's busy academic and extra-curricular schedule, he is active within his church, has a part time job, and takes saxophone/jazz lessons. Koen does all of this while maintaining a 4.6 GPA.
In the time Koen has been a member of the marching band, I have had the chance to see him grow into the responsible young adult he is today. In the last two years of participation in this organization, he held the position as Woodwind Section Leader during his junior year and Senior Officer his senior year. Duties for these titles include running sectional rehearsals, fortifying proper playing and marching technique, maintaining "esprit de corps" within the band, along with managing tasks as an officer.
What particularly stands out to me about Koen is his sense of pride and passion that he possesses and how he transfers that into his work ethic. This to me was evident prior to him becoming a student leader. Koen takes pride in his musical ability which has pushed him to become a strong musician. Not only does he want himself to become a better musician, he wants the same for his peers. Watching him work with his peers during rehearsals, I was able to witness him in his element. He understands how to channel his pride and passion to get people eager and excited to be better. This quality of a leader is not something you can teach and is something that he has always had inside. Based on how his peers interact with him, it is evident that he is respected and did an outstanding job as a student leader; he certainly exceeded all expectations.
In addition to all of his musical accolades, Koen is very involved in the Accounting Technology CIP Program. This career pathway allowed for Koen to take important coursework both offered by Trinity and Duquesne University which puts him ahead of the curve. With these experiences, Koen will be attending Robert Morris University majoring in accounting.
Koen is a fantastic human being who has been a great asset to all of the organizations that he has been a member of. I can confidently say that I am sure he is going to be incredibly successful in his future and that he will be missed by the Trinity staff. I would like to say 'thank you' to Koen for all that he has done, particularly with the music program. Koen Weichel has truly earned this nomination for Student of the Month.
Nominated by Mr. Dan Hilty