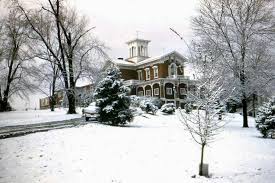 This image was accessed via Google Images under the Creative Commons License
The 2020-2021 school year has brought numerous changes to Trinity High School, including the introduction of flexible instruction days – F.I.D. days – to the district. F.I.D. days were implemented at Trinity in order to manage  potential cancellations from snow storms and COVID-19 related issues that may impact one, or multiple, Trinity schools. 
In past years, students would not have any school on a snow day. The day that they missed would have to be made up later in that academic year, on days where students would otherwise not attend school such as spring break.  This year, however, that is not the case. 
F.I.D. days count toward the mandatory 180 school days Trinity must have, while also allowing students and teachers to keep moving through their curriculum. Spring break no longer has to be eliminated due to snow days. 
"The benefit might be that we won't have to add days in the summer and move graduation. We also don't have to have students go to school on weekends," Trinity Area Superintendent Doctor Lucas stated. 
Trinity can switch to remote instruction for a variety of reasons this year. In fact, remote instruction is sometimes necessary due to various conditions in the Trinity school district – such as bad road conditions, power outages, or the loss of water utilities. Other times, the Health Department may tell Lucas to shut down the school because of COVID-19 outbreaks.
Snow has also been a problem this year, due to record high snowfall. 
"This winter's snowfall includes the whitest Christmas the region has ever seen, with about four inches of snowfall on Christmas Day breaking a record that had stood since 1890," Jacob Tierney wrote in the online article "More snow on the way for Western Pa., which has already seen twice as much as usual". 
Because of the conditions of this past school year, students and teachers have become much more comfortable with remote learning on cancellation days. 
"To have remote instruction, you must have a solid plan of what the expectations are," Lucas explained. 
Lucas believes that in-person instruction is the best form of instruction for students, no matter what. However, when in-person instruction becomes impossible, live instruction on a Google Meet is a good alternative. 
Lucas plans to continue utilizing F.I.D. days in the future, regardless of what happens with the COVID-19 virus. The only change may be the number of F.I.D. days available to Trinity. Normally, schools in Western P.A. are only given five F.I.D. days, so next year Trinity will likely only have five days to choose from.
No matter what might happen though, students and teachers in the Trinity district have come a long way this year. Let's keep it up, Trinity!