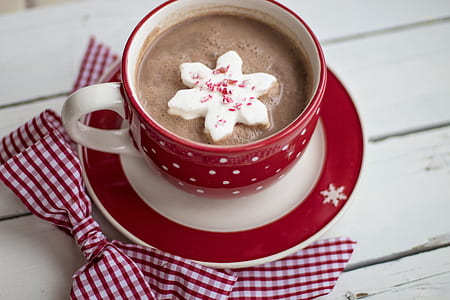 This image was accessed via Google Images under the Creative Commons License
Whether or not holiday drinks bring you into a joyful sensation this month, they definitely provide a warm fuzzy feeling with every sip. There are so many to choose from, and for coffee fanatics like me, they are the perfect way to celebrate this season.
 This year Starbucks came out with two, yes two, new drinks, and let me tell you, I was super excited. On top of this, I discovered a secret menu drink!
However, Starbucks wasn't the only chain that came out with a new drink this season; Dunkin' Donuts also released a Sugarplum Macchiato! So, rated on a 1-10 scale, I present to you: the Caramel Brulée Latte, the White Peppermint Mocha, the Snickerdoodle Macchiato, and the Sugarplum Macchiato.
Keep in mind that I'm a lover of iced coffee, so all of these drinks are rated in their iced alternative.
Out of these four, I have to say Caramel Brulée Latte from Starbucks was not the best, but it wasn't the worst either. With a score of 7/10, it's definitely good for people who favor stronger coffee with a sweet caramel spin on the aftertaste. It's a good "basic" drink for anyone who doesn't want to venture too far from the traditional Starbucks coffee.
As far as the Snickerdoodle Macchiato goes, this is a secret menu item from Starbucks. It's literally a cookie in a drink, there's no other way to describe it. So, if you favor snickerdoodles over sugar cookies, this might be the best new thing for you this holiday season. It has a superb mix of cinnamon and coffee, creating the almost perfect holiday feeling and earning an 8.5/10.
Next is the new Sugarplum Macchiato from Dunkin' Donuts. Who would've thought that fruit and espresso would be a perfect match? You explore different flavors of berries with the tiniest hint of vanilla, which makes it really feel like sugarplums are dancing around you for the rest of the day! It's the perfect explosion of everything nice! So it deserves an 8.7/10.
Finally, the moment we have been waiting for, the absolute winter classic! But with a twist… this is a White Peppermint Mocha from Starbucks. It's not as overpowering as the original Peppermint Mocha, but the White Mocha makes it lighter and definitely isn't an explosion of many different flavors. I rank this a 15/10, as I've gotten it maybe ten times already.
Remember to stay safe, but definitely venture out into the coffee world. I promise you won't regret it! Have a happy holiday and a cozy winter!