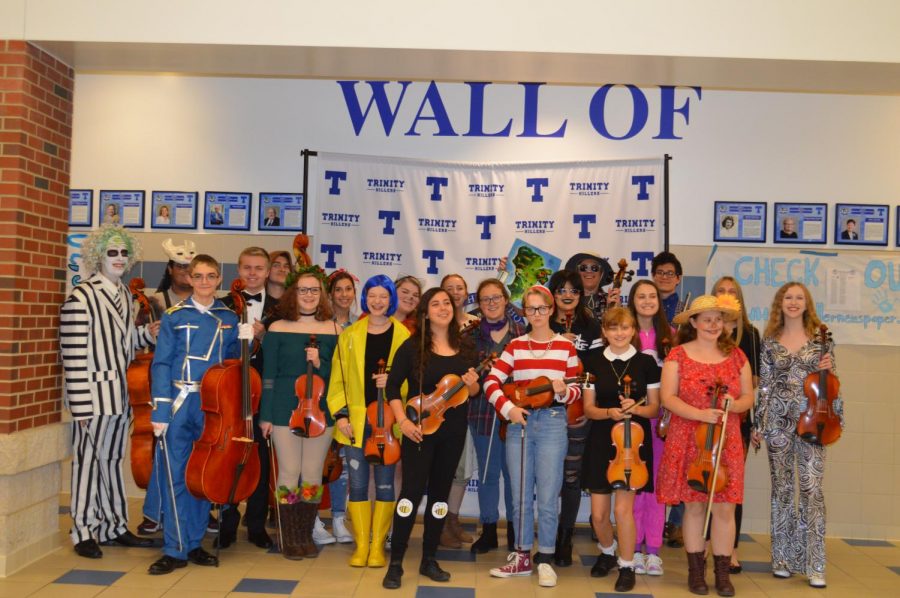 Christa Malinak
On October 23, the Trinity High School String Orchestra performed in a Halloween Concert. Despite only having a few weeks to prepare and practice, the orchestra students and their director, Mr. Conkle, were able to organize a successful event with popular repertoire.
This year's Halloween Concert was a "Pops" concert, meaning that the orchestra played songs from pop culture, not from classical composers. The concert included themes from many famous movies such as "Titanic," "Star Trek," "Star Wars," and "The Wizard of Oz."
According to Conkle, the concert went extremely well and "many of the pieces sounded better than they ever had sounded in rehearsals."
Conkle is also impressed with how quickly the orchestra students learned all of the songs for the concert: "With all of the assemblies and chaos of the start of the school year, it was hard to find a lot of time to practice as a group. The students had to take responsibility for the pieces and practice them on their own."
Conkle added that he is extremely proud of this year's freshman who recently became part of the high school orchestra.  He thinks they performed well at their first high school concert, especially considering that they were overwhelmed in adjusting to the high standards and quick pace of his class.
Freshman violinist, Sara Setto, shared that "being in the orchestra at Trinity is very fun, but it's definitely a step up from the middle school."
Setto thinks the concert went well, even though the pieces were difficult and she felt overwhelmed in a new orchestra. But, Setto definitely enjoyed her first concert, especially while playing "Over the Rainbow" which is from one of her favorite movies.
Senior viola player, Alina Mayton, also thought the concert was a success. 
She enjoyed playing music from popular movies, and commented that "my favorite song to play was the theme from Star Trek." 
Overall, all of the orchestra students had an exciting time at the concert, especially because they got to dress up in costumes. Students dressed as countless characters, wearing elaborate costumes of everything from Beetlejuice to Coraline to Star Wars characters.
However, the orchestra students must now move away from their costumes and "Pops" songs in order to focus and prepare for their next concert, which will be held on December 16 at 6:30.
The students have about six weeks to prepare a new repertoire that will be more challenging and will include roles for wind instruments and percussion. In the upcoming months, the students hope to improve their technical skills and ensemble dynamics.
While Conkle thinks that the orchestra has improved significantly since last year, he shared that Trinity's string musicians still have much room to grow. Throughout the rest of the school year, the orchestra will continue to strive for improvement so their next concert can be even better than this one!